Tue Feb 26, 2013 10:14 pm
Where do you attach the dropping hook to the first hook with the material?
Any help would be appreciated.
Tue Feb 26, 2013 11:02 pm
Hi Martin
You tie down the mono or whatever you use for link with a thread ( I use 6/0) on the top of the main hook, then you bend it a tie the free end back to the rear. Than some super glue. Tied twicely it won't let go and combined force of wraps will hold mono without problems.
Tue Feb 26, 2013 11:50 pm
Thanks Stan.
Sun Mar 24, 2013 9:25 pm
Here Ye go, just have to tie on the materials now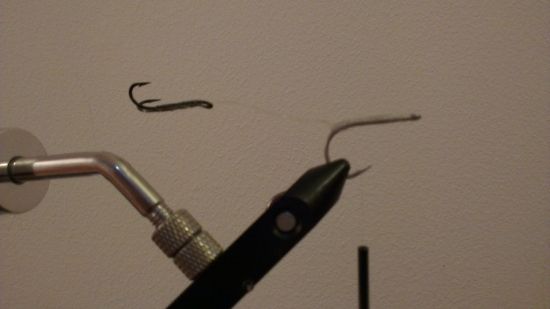 Mon Mar 25, 2013 12:28 am
nice 1. u happy with the double facing up? suppose it shouldnt matter too much..
Mon Mar 25, 2013 5:10 pm
I made up 4 Charlie with 2 facing up and 2 facing down. It seems easier to have the hooks facing up when making them up. There's more effort in having the hooks facing down with the holding of the hook in place and using a few extra layers of uv resin to the mono or fluorocarbon link.
Tue Mar 26, 2013 12:16 am
sounds good Martin. would be interested to see your finished fly..
plenty of images of the falkus sunk lure online if you wish to search for them via google images:
https://www.google.co.uk/search?hl=en&q ... SV0QWeooAI
i have tied up quite a few sea trout patterns myself over the winter.. i need to get a few pics of them up into the database at some stage
cheers