Venue:
Bus Station, Waterford Quay
Bait:
Black lug wraps, Mackeral, Squid, Frozen Peeler
Tide
: 4 Hours up to high tide
Results:
3lb Codling
On Friday 19th last I decided to fish Waterford Quay behind the bus station in the hope of some flounder and codling. I had never caught a Cod from the shore, and I was very excited about trying for them. As some one who doesn't drive, this trip was a breath of fresh air. This was an Ideal session for me, was just a case of putting my tackle in a gear bag, rod and sand spike in hand and hopped on a bus on the Tramore road at 10.20 and was fishing by 11 oclock.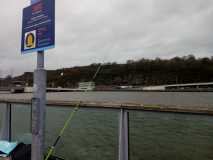 Rigs I were using were standard short pulley rigs with 3/0 cox & and rawles uptide extras and 3 up flapper with size 2 aberdeens. Things started very slow, with no bites but I was content as my lead was holding bottom in the river. At 12.30 I got a cracking bite on a flapper rig baited with Lug/Mac combo, and struck into fish which fought very well in the current. My first shore Cod, a lovely chunky little one of 3lb. I fished a further few hours before packing up at High tide, before the vicious current began to move out.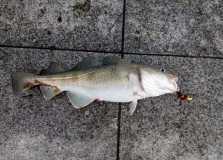 I've another report to add in coming days of trip to Dunmore east last night, stay tuned

Last edited by
seank
on Mon Jan 15, 2018 10:50 pm, edited 1 time in total.