Well all I can say is in my career as a sea angler never have I had such a hectic week and a bit. The following reports are fairly summarised but I've tried to include as much information as possible. I also had a few boat trips which I may document them in a separate report.
Day 1: Kieran and Sons Achill/Currane Sunday 9th July

Results: 3 Pollack, 1 Mackerel, 3 dogfish, 1 Flounder
Bait: Black Lug Wraps, Frozen Mackerel
Tide/Duration: Flood Tide (2pm- 8.pm)
Weather: Misty, with heavy showers. Westerly winds
Rigs: 3 Hook Flapper (3 up and 2up 1 Down) with size 2 aberdeens
[/i]
The original plan was to dig fresh lug/collect crabs and hit a rock mark for wrasse but owing to the wet weather on the day we opted to stay clear of the mark I had in mind because it is extremely slippery when it gets even the slightest soaking.
We chose to fish Dugort strand (Mastersons) and arrived just at the start of the flood tide (Some time around 3 oclock). The last time I fished Dugort was during a leg of the West Coast Shore League in 2016 and it proved to be unfishable due to horrendous amounts of weed. I chose to fish 3 hook flapper with size 2 Aberdeens baited with small sections of the black lug tipped with mackerel. Within minutes of getting our baits in the water it became apparent that the weed was still an issue on the beach. One of the young lads managed a small flounder of about 15cm on his first cast, but still Kieran and I agreed that the weed was going to ruin our day so packed up and headed for a mixed ground mark closer to Mulrany.
We fished the alternative mark from around 4pm until 7.30pm. Fishing was very poor with us catching 3 Dog fish, 3 Pollack and 1 Mack.
Day 2: Testing new ground, Achill Island Wednesday 12th July
Results: 4 Ballan Wrasse, 2 Corkwing Wrasse, 10 Pollack
Weather: Sunny, Mild south westerly winds
Tide/Duration: Flood tide 5pm-9.30
Rigs: Running Ledger Conger Rigs 7/0 hooks, 3 hook swivel wrasse rigs size 1 hooks
A plan was hatched at 2 oclock in the morning between my friend Jason and I to fish a location that I have been studying on charts and maps for some time. It is a rock mark on Achill island that gives access to very deep reef and sand. Jason is a trained outdoor instructor and mountain guide so I left it him to check weather swell etc and he is familiar with the location from work in the past. He quickly gave me the all clear and said the day was going to be a scorcher. We aimed to fish the afternoon and would be fishing a flooding tide until 9pm roughly. We dug fresh lugworm on route and collected some crabs for wrasse. We arrived at mark at 5 oclock and after 20 min/30min walk out along a headland we arrived at the mark. There was so many rock ledges to choose from at the mark. We chose to fish one with plenty of room and that gave access to a deep west facing gulley. I quickly set up 2 uptider setups and cast out running ledgers with whole mackerel and cast them at 30 yards out in search of conger and huss. While those were working on sea floor , we target wrasse in close.
All fish were caught while wrasse fishing at out feed. None of the Pollack were more than 2.5lb and the biggest wrasse was between 1.5-2lb. All fish fell to lug on simple 3 way swivel rig at out feet. I believe had we done some lure fishing we would have contacted a better stamp of Pollack and had we fished crab better wrasse would have been encountered.
The congers baits weren't touched, but there was fair bit of a swell which and it was a very sunny and fresh bait would increase the odds. So I plan to return with fresh bait later in the summer if the mackerel become more plentiful. Now that I think of it, some of the small Pollack would have been ideal!!!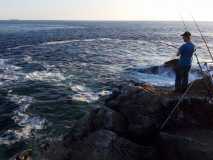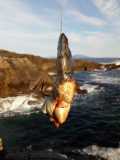 Day 3: Inner Clew Bay Thursday 13th
Results: 6 Thornback Ray, 1 sea trout
Tide/Duration: First 3 hours ebb (11am-2pm)
Bait: frozen mackerel fillets
Weather: Strong South Westerly's
Rigs: 3 Hook Flappers 2/0 Cox and Rawle uptide extra hooks
My mate James picked me up at 10.30 and we headed off for the mark. On arriving at the mark I realised id only brought one rod and forget my Cobra Gt. I instantly said to James, not to worry I would let him reel in a few fish. I was set up and fishing by 11.10ish. I planned to cast at range for the first few hours as we were well up the shoreline given the high tide. The bait I was using was old mackerel fillets from last year which were slightly rusty. I've found this form of bait to be lethal in the past for Thornbacks and Huss. They almost cure in the freezer over the course of a year or two.
After about 10 minutes in water my Abu Rocket 13 ft began to nod violently. I knew straight away it wasn't a dogfish or ray. The fish was fighting hard as I reeled in, and after a short time a nice sea trout was on the shore. Sadly to my dismay the fish was badly damaged by sea lice.* I returned to the sea quickly, but I wouldn't be too hopeful for the survival of the poor creature.
Even though I had picked up a ray at the spot I was fishing, I decided to walk further down the shore to a place that channel is closer to shore. After 5 minutes I was fishing again. Within 10 minutes my rod began to nod, and then in text book ray fashion the tip keeled over. I struck in and after a nice battle; a lovely ray of 5/6lb was on the shore. I had forgotten my match measure and scales so this is only an estimate.
Over the course of the next few hours the sport was almost constant. We had fish on every cast. I would fished it out another few hours but sadly I ran out bait
All I can say was this was as good of a day as I've had in inner clew bay in some time.
*It was very sad to see the fish so badly affected by sea lice. This has to be down to the salmon cages at the mouth of clew bay. The fish I have caught on the Erris peninsula have always been pristine glistening bars of silver. This is not the first time I've caught a sea trout in poor shape in clew bay. If you want see picture of damage done by lice to this fish, check out the Connaught IFSA page on Facebook.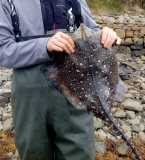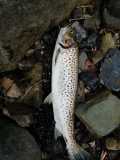 Day 4: Keel Strand Achill Saturday 15th

Result: 4 Undersized Turbot, 1 weever
Tide/Duration: First 4 hours of ebb
Bait: Lidls finest mack
Weather: Offshore winds, South westerly's, big swell
Rigs: 2 UP 1 Downs Size 6 Gamakatsus/Size 2 Kamasan Aberdeens
This was a complete long shot. It was a misty, wet day in Newport, so I knew to assume the weather on Achill was going to be at least 3 times worse. My mate kev picked me at 11 and we headed for keel. The plan was to do 3-4 hours fishing on keel and go for swim on dugort before heading home.
I chose to fish under the cliffs on keel. This would be slightly more sheltered than the rest of the beach. The weather was the predicted wet misty day on Achill with strong offshore SW winds blowing in from the Atlantic. The sea was churned up with a heavy messy swell on keel. Condition were probably almost unfishable in most people eyes. But I chose to risk it in case a stray Bass was moving through stormy surf tables.
I fished lidl mackerel strips on the flapper rigs and cast them out into the surf with a 4oz turkana pyramid lead. The swell was to much for the lead to work properly and was being pulled out straight away so I chose to fish 5oz grip leads for the remainder of the session. Over the course of the few hours I had four undersized Turbot and a Lesser Weever. At least it wasn't a blank and it was great to be out on this majestic beach in heavy weather. We chose not to swim on this occasion and finished the day with a massive feed at the Blue Dolphin Chipper Van in Newport.. Still feel bloated from the overdose of fat :O
Day 5: Inner Clew Bay Sunday 16th July
Results: 3 Thornback Ray
Tide: High Tide 11ish, first 3 hours of ebb (3pm)
Bait: Horrid Soft Frozen Mackerel from a few weeks ago. Pure muck!!!
Weather: Scorcher

My uncle Maurice wanted to get out for day shore fishing so it was decided Saturday night that we would take a crack at the ray. I forgot to tell him to retrieve bait from a chest freezer at a relations house so we had to make do a bag of frozen mushy joeys. When I say mushy, I mean as mushy as porridge. Awful stuff that went off from a scorching hot day out bay a few weeks back.
We arrived at the mark around 11.45 and were fishing by 12.15. I set my uncle up with my Abu Rocket 13ft and Affinity 7000 loaded 20lb Ultima power steel. I fished my Cobra GT and Ultegra 14000 and spool loaded with 22.5kg Teklon gold. (Pricey but excellent stuff) I hadn't had a any appreciable fish on it thus far so was hoping for a nice ray to tested it out.
Rigs were same as my other ray session 3 hook flappers with size 2/0 CnR Uptide extra. The bait had to be heavily whipped with the elastic and turned into sausage bait as it was so bad. I chose to use my new favourite lead for medium currents, the Turkana rubberised pyramid lead 120g. I am amazed at the distance I achieved using 1 up 2 Down, first cast using standard over the head cast was easily 120 yards, and I was content that I was amongst the fish. These leads are very aerodynamic. Within five minute the rod topped nodded and then bent over and after a nice fight I had small thornback on the shore. Maurice had a bite and struck into a good fish just moments later. Unfortunately he got stuck in the weed fringe and lost the fish and terminal tackle. Luckily he was fishing a running ledger so the fish will have got free and not be dragging a lead around. Hopefully the hook has rusted out by now. The 17lb was to light for fishing high tide in inner clew bay given the huge weed fringes on all the mark. We chose to decommission the line on the spool, and respool with 30lb mono just as a safety measure.
After Maurice was back out and fishing, I spotted a angler setting up the shoreline and recognized him so I cast out freshly baited trace and headed up for a chat. It was none other Fiacra McKenna, top match angler and true gentleman. He was down at the mark to knock thornback ray off his species list for the year. I chatted with him for 20 minutes and headed back to my post. Maurice had no bites since beefing up his tackle, but he informed me that there was activity on my rod while I was away. I picked up and reeled in a few turns, and could feel a good fish on the end of the line kitting in the current and flapping its wings. After a nice battle a lovely Ray of 20 inchs was on the shore.
I had one more fish after the biggin. Unfortunately my uncle didn't have any luck that day. We headed for home just before 3pm
Day 6: Wrasse Session, Corraun, Clew Bay Tuesday 18th July
Results: Approx 20 Ballan Wrasse, 2 Corkwing Wrasse, 1 Small Sea Scorpion
Tide/Duration: Low 19.40pm – First hour half of flood tide (9.30pm)
Bait: Fresh Blow Lug, Small Hardback crabs.
Weather: South Easterlys and Overcast
Rigs: 3 hook Swivel rig, 1 ounce leads + Size 1 Kamasans
A plan was hatched Sunday night to fish Tuesday evening with a relation to fish a location we fished last summer with him and his son dougie that produced great sport.
We dug bait at location closer to Newport and collected about 20 small hardback by over turning and carefully putting back rocks that lined the shore line
We arrived at the mark at 7 oclock and fished for a half hour and caught 4 wrasse between us. They were all tiddlers, so we decided to hold off until the flooding tide rather than waste bait. We started to fish again at 8 oclock as the tide had begun to flood. The bites were instantaneous.
Over the next hour we had nearly 20 ballan between us and 4 corkwing and little sea scorpion. The biggest fish was 46cm beauty which i presume is or is close to a specimen. It gave a tremendous fight on my stradic spinning rod, and nearly had me in the s*** but I managed to bully him out. On releasing the fish, he went belly up. I've seen this a few time releasing big wrasse, each time it worries me. He shot down which was a great relief then came back again, and lied on his side.
After two minutes lying on his side, thankful he came out of his trance, and shot back down into the kelp. Has anyone had a similar experience releasing wrasse?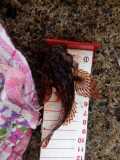 Topic for Discussion:
I have mentioned the following topic before in previous report where I caught my PB 6LB+ Wrasse in June 2016. Please respect my honesty if you are a Catch and Release fanatic.
My granddad was a native of Inishturk island, where the Ballan Wrasse is considered a delicacy, where locally it known as a "Gunner". They are especially considered a delicacy when cured/salted. On occasion I have kept fish for him, and I've never seen anything bring smile to person face like the gift of the gunner does for those people. I swore to myself after the passing of my granddad in august that I would never kill another Ballan for the table. Each time in the past where I did, it was a gift from me to him, a man whom was very good to me all my life and instrumental in my love of angling as sport, many happy days I spent on his Ocean Tramp 35ft "The Queen of Killary" out of Westport Harbour
On this occasion my cousin wanted to keep 2 Ballans for his dad and my great uncle. I had not informed him of my decision to call quits to keeping this species for the table so I decided to let it slide on this occasion as he had told his dad he would bring him home a fish.
On returning home, I sent a picture to Joethejunior of a sea scorpion that evening. He spotted two dead Ballan in back ground and informed me of the Ballan being a nesting species. I overlooked the fish in the background. I was only vaguely aware of this fact and I informed him of the cultural relevance of the species to the inhabitants of Inishturk. I have to admit was instantly extremely embarrassed. I spent the next morning researching the species, and from my findings, I will never kill one of these fish again to feed the nostalgia of my elder relations.
I am taking a stand on this one, and will be strictly catch and release on this species and will educate my family as to that fact as well. Culture and Heritage are important to us as a nation but I think it's important where they have an impact on the environment and ecology that we break free from them. (E.g Turf cutting controversy) I feel bad that I may have done damage to the wrasse population for taking the odd fish, but all I can do is change my ways and make sure other don't make the same mistakes I did.
In my opinion the recent interest by the Salmon Farming Industry in using wrasse as lice cleaners is the most serious threat these fish have ever faced.