Kayak(s): Me
Duration:2.5/3 hours
Tide: rising
Weather:cool, overcast, heavy showers
Bait: sandeel, mackerel, soft plastics
Rigs: homemade
Results: ray, ray, ray, occasional dogfish, ray, ray, ray
headed out to a spot i have fished a couple of times out this way and got launched for about 12.30. i paddled a little bit out and started drifting, casting a plastic sandeel for pollack. this is usually a good mark for the pollack, has been so far anyway but it wasn't to be today. did a good hour of drifting and casting but never even stirred a fish.
the main intention was to fish baits on the bottom for ray anyway so after a fruitless hour i dropped anchor over deeper water and got to work with the bait - a whole sandeel on the smaller rod and a whole mackerel on the larger. first drop and i was into the ray;
the obligatory dogfish showed up soon afterwards;
followed by ray after ray after ray;
i had the heavier rod out with full mackerel but nothing positive happened on that all day. i did get a few bites and the tip pulled around a few times but i think it was a couple of small ray tearing lumps out of the bait, too small to take in the whole thing. all i was catching was smallish males and i had hoped the bigger bait might sort out one of the females. as it happened, it was the sandeel that started to take better females. after one bite i struck in and this felt a better fish straight away on the smaller rod;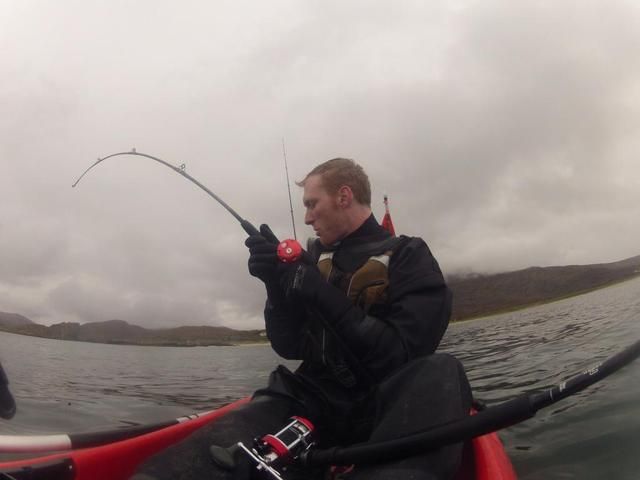 it put a good bend in the rod and when i got her to the surface she was far and away the biggest fish of the day. i weighed the fish but the small scales i had maxed out. it's a scales i use for roach and perch but the female ray maxed it out with no trouble. here she is;
i had a few more females after that but none were as big as the first one;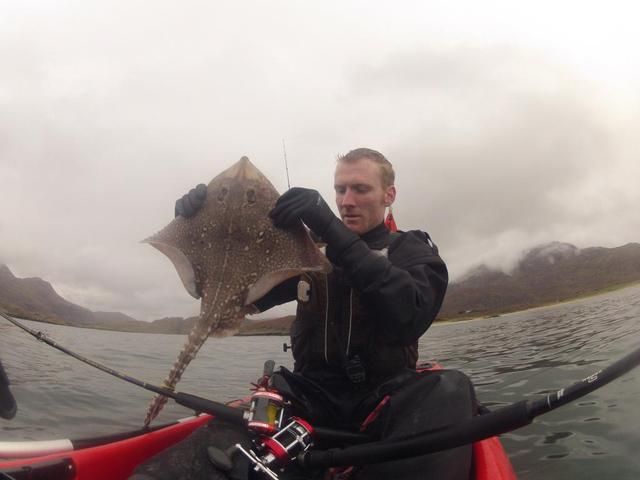 i fished two packets of sandeel and every single time the bait went down a ray was caught. every single drop. some small, some nice, despite the weather it was a cracking day's sport. i hope the winter gives slack winds because i can't wait to go for another run up in that spot. i'll leave you all with a photo of the last fish that i called "stumpy" on account of having a good bit of it's tail missing. probably the smallest fish of the day too!