A fond farewell - 03 October 2011
Well, my time is up! My contract in Singapore has come to an end after 4 fantastic years. So to celebrate, we went to Rompin, West Malaysia, for the last Sailfish trip of the year.
Rompin has had some bad weather lately and the rain was pouring heavy on the road there! This did not look promising at all. We had also heard of other trips being cut short due to storms bashing into the area.
We woke to a calm sunny morning, with flat seas and two very excited anglers set off to sea! We met with a few friends at the jetty and wished each other good luck. All our gear was loaded onto the boat and had a last check for the essentials. I'm sitting here, typing this report, next to the reel of 60lb flouro-carbon line that should have been in my tackle bag yesterday! Luckily, a kind chap on the adjacent boat was kind enough to give us a reel from his own stock to get us going! He also gave us some hooks, which we also seemed to be in short supply of! I later found my stash of hooks in one of my pockets, but it was better to have more than less!! It was one of those times when we wished we had written a list of essentials down and double checked, as I was sure these things were with me! Feeling pretty stupid by now, the engines started and we were on our way.
Baitfish were first on the list, but these were quite hard to catch. We could see the birds circling over the water and cast into the splashes beneath them, but each cast saw only occasional single fish on the hooks. With about 10 fish in the bait tank, Captain Kim said we should start fishing! So we set off to the fishing grounds and Merv and I set up the yaks.
As we approached the main grounds, a few Sails could be seen, swishing their bills out of the water under the birds. Yaks in, rods on, bait in the tubes, balloons at the ready and we were off. Within a short time, my reel made a nice little zzzzzzz sound. A pause and zzzzzzzzzz again. Up shot the first sail of the day, but it thrashed wildly before the hook was set and after 3 or 4 jumps, I saw the baitfish flying out from its triumphant beak! BUGGER!!
Back in with another fish, line out, balloon on and I was ready again. Soon after, my reel started to click. The fish was playing with the bait, but not running. The balloon popped off and the line was going sideways, slowly. The monster below started a slow run out and I nervously waited for the fast ZZZZZZZZZZZZZZZZZZZZZZZZZZZZZZZ of my reel before clamping down, getting tension and knowing the hook was set. This monster went deep and I wasn't even sure it was a sail - no jumps, no splashes, just a heavy deep run that was towing me along at a good speed. This could even be a Tiger Shark - my biggest fear in these waters. After a few minutes, the beauty broke the surface and showed her colours, to my relief!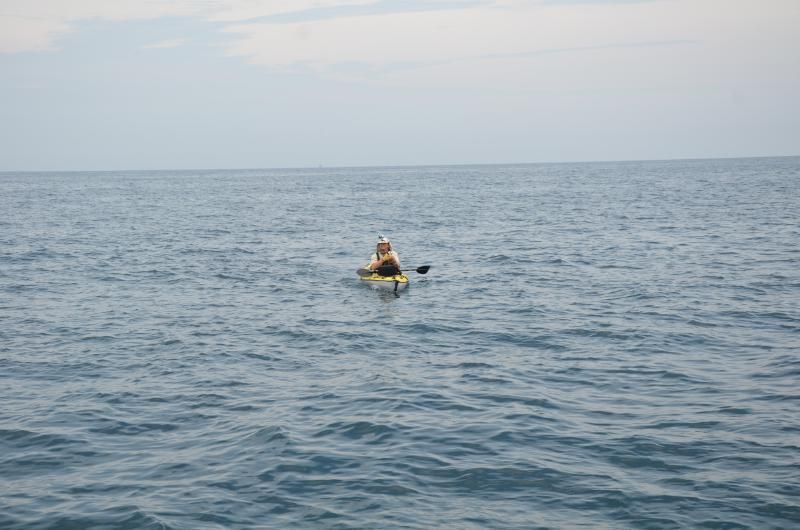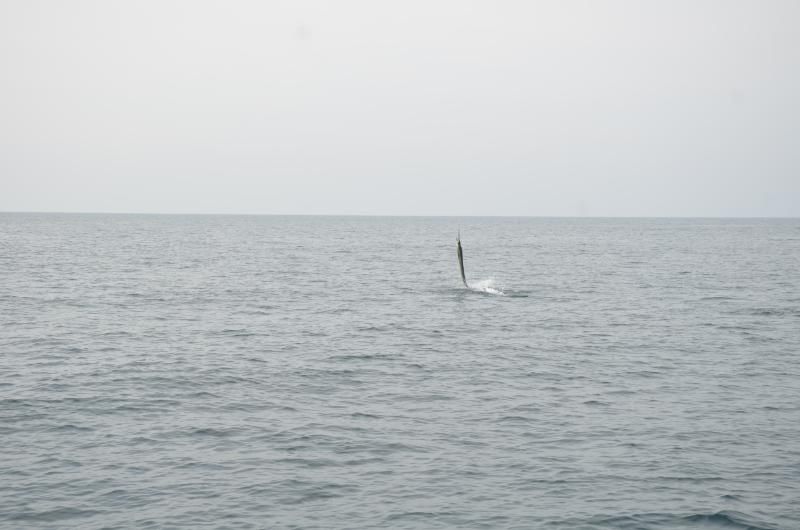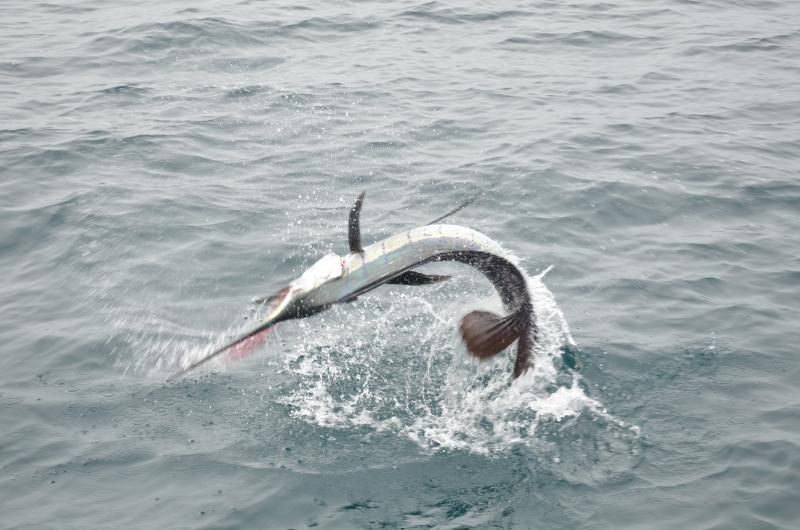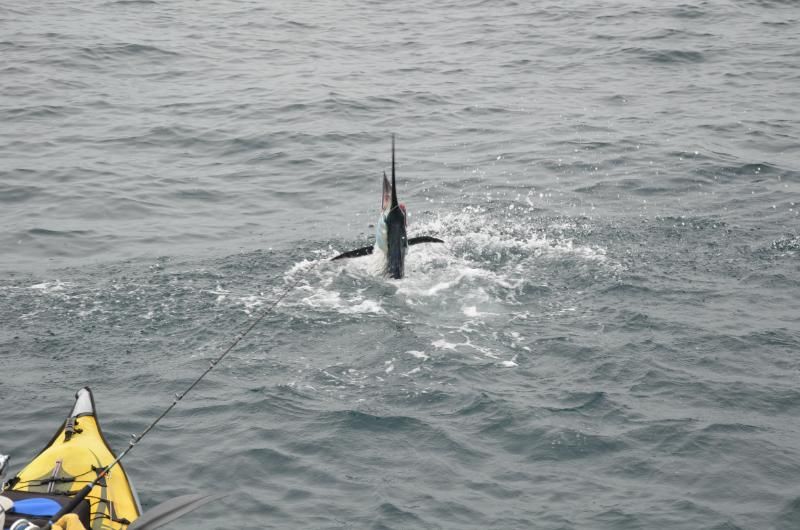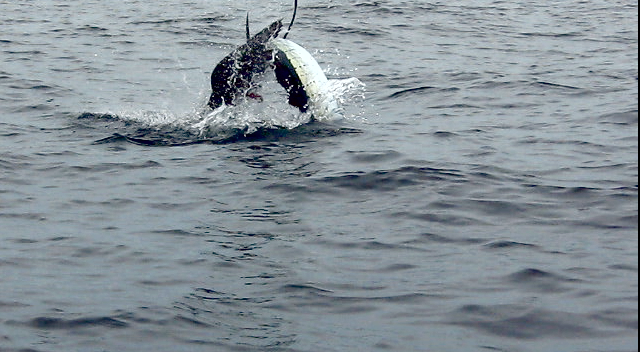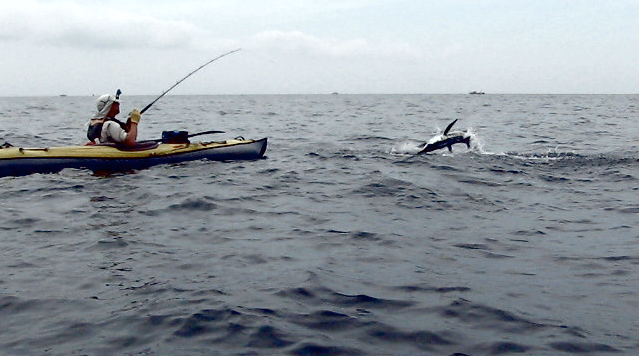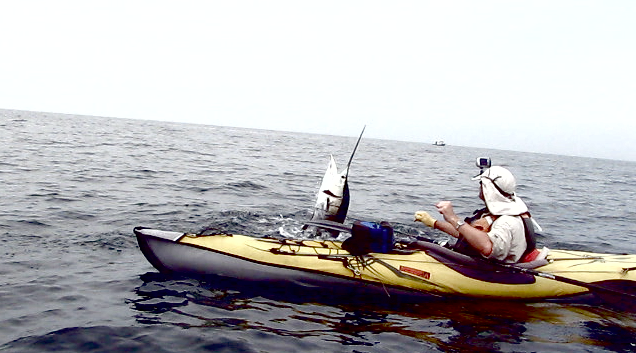 As she came closer to the yak, I managed to get the leader, but I only had one glove on at this stage. As I tried to pull her closer, she made another dash for freedom and nearly sliced my little finger off in the process as the line cut in!! I just managed to release the line and quickly put on the other glove!! She was still a little too lively as she came in, but I grabbed the beak and held on for dear life!!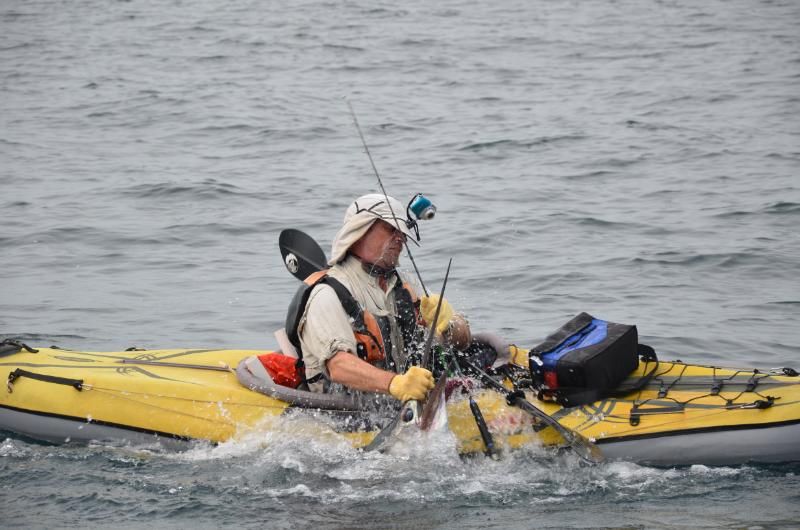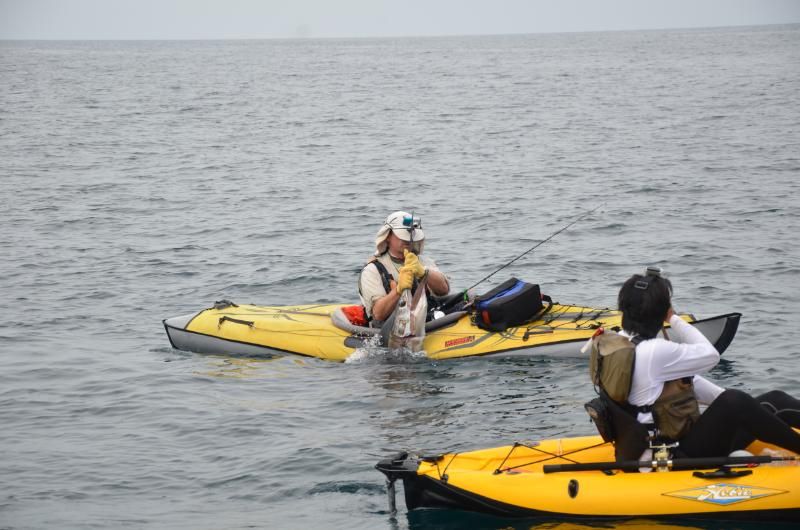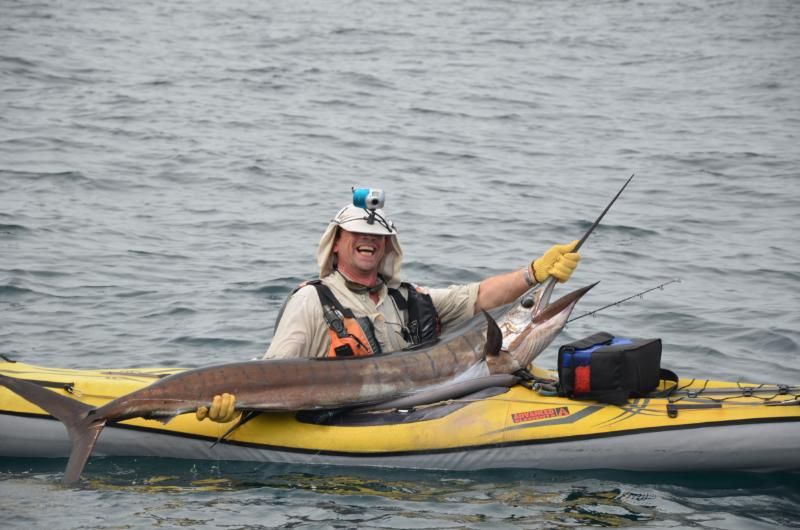 She was quickly released and I was happy!!!
We soon moved on to the next spot and back in the water we went. Once again, my reel made that lovely sound and up shot my second sail!!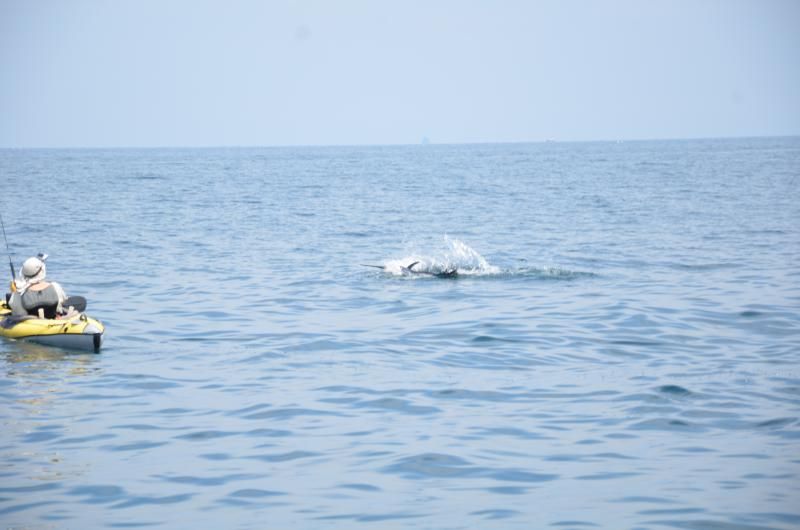 There are two scary moments with sailfishing on the yak - the first is the hook-up. We use circle hooks, which are designed to reduce gut-hooking the fish and will hook the corner of the mouth 9 times out of 10. Problem is, these hooks are harder to get a good hook-set, so waiting for the tension on the line is a tension filled moment! Once that part is over with and the fish is still on, jumping around on the end of the line, you then have the task of getting it close enough to grab the beak, without getting stabbed or the yak punctured!!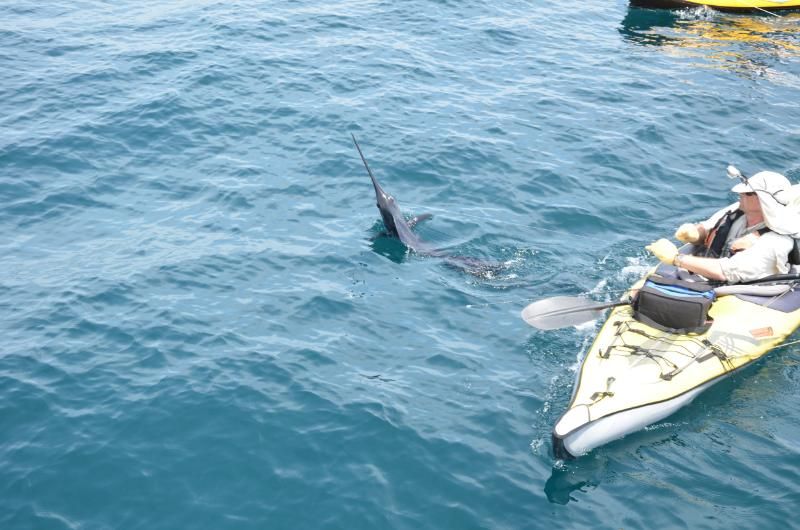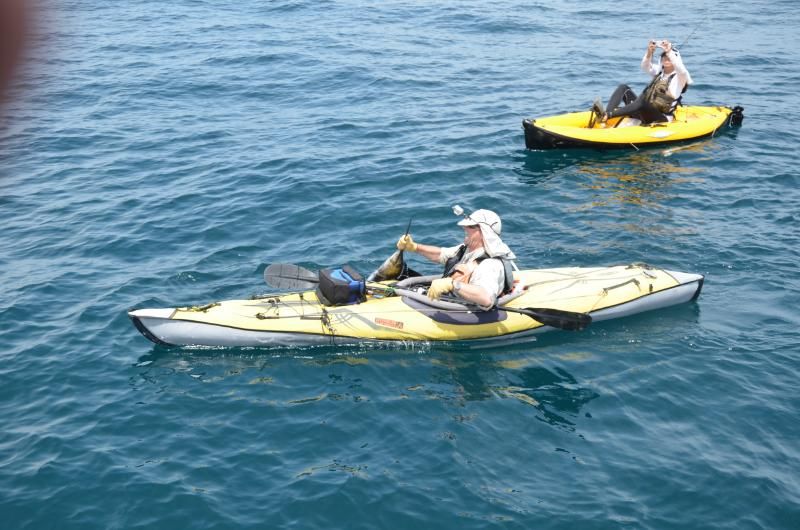 2-0 to Pearly!!!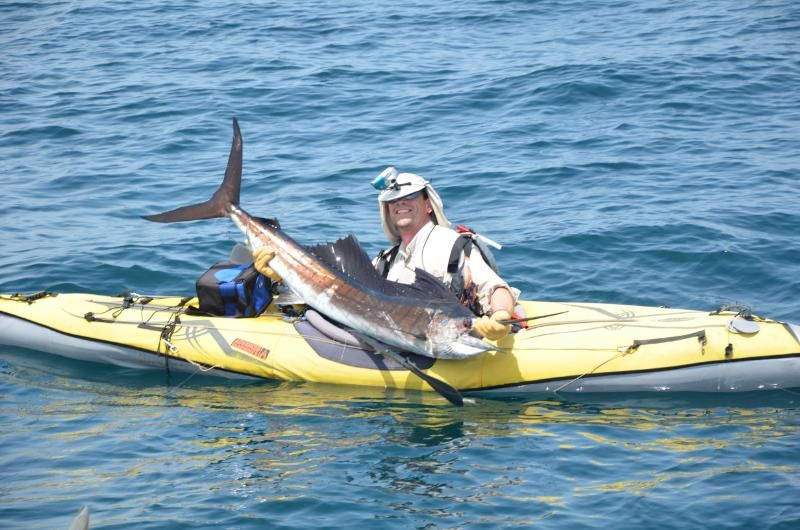 Merv was now looking more determined to catch one for himself! He was initially out for Tinggirri (Spanish Mackerel) so had a wire trace on the hook to resist the sharp Spanish teeth, but a Sail took the bait and snapped the 30lb line! He then rigged up for a sail with 60lb flouro-carbon line and a Tinggirri bit through the line! He did get it right, third time lucky though!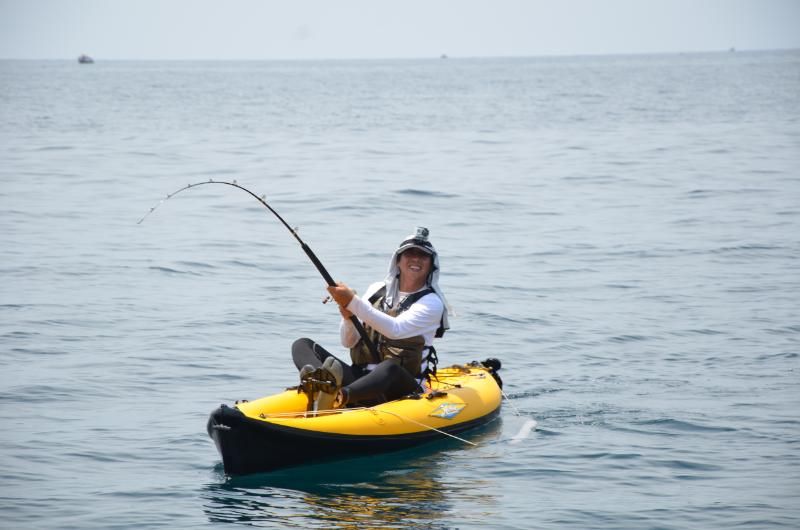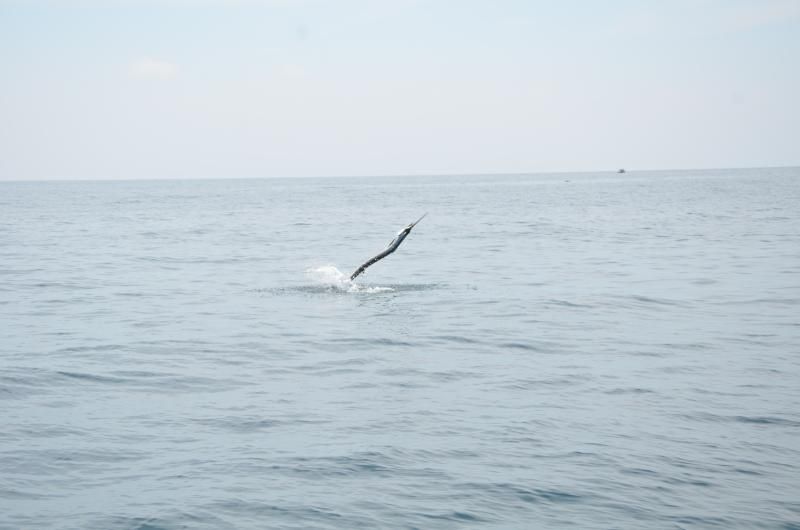 I was chasing after him in hot pursuit...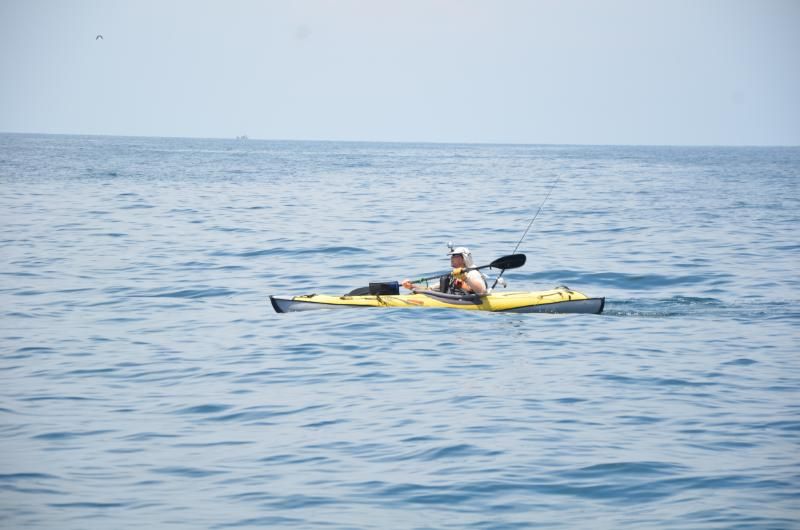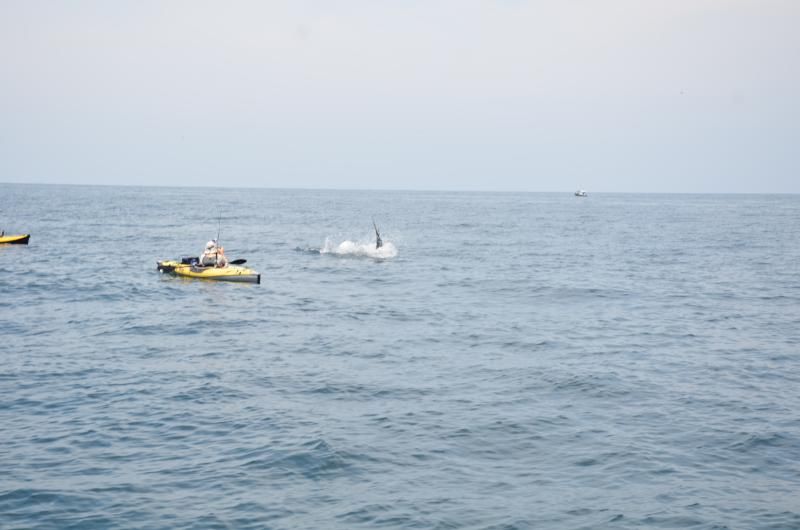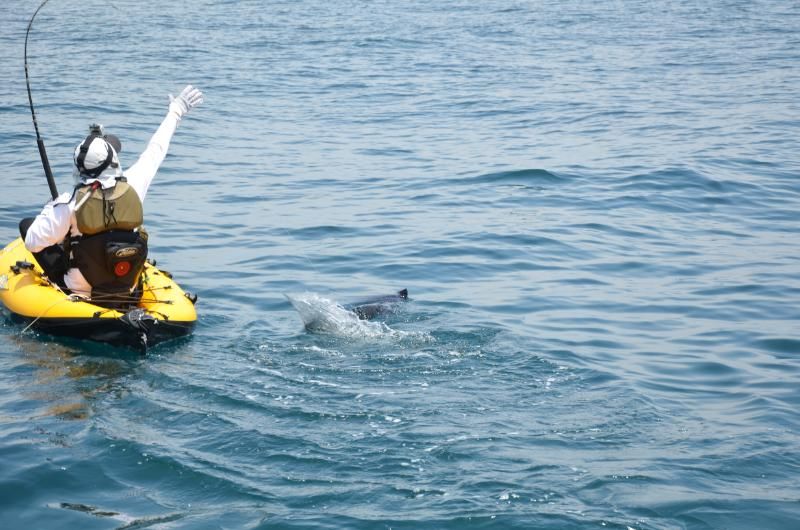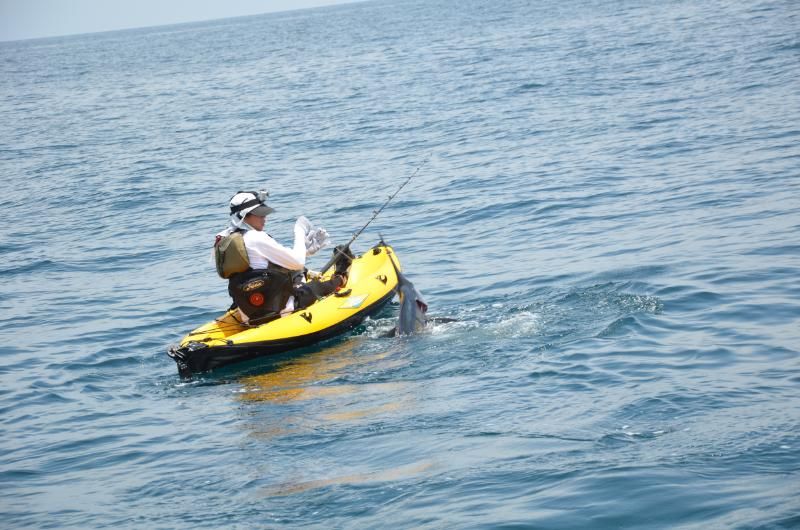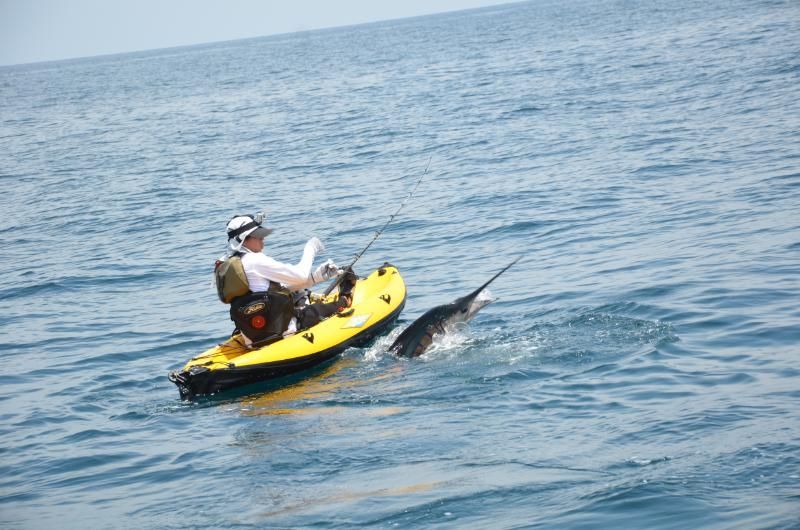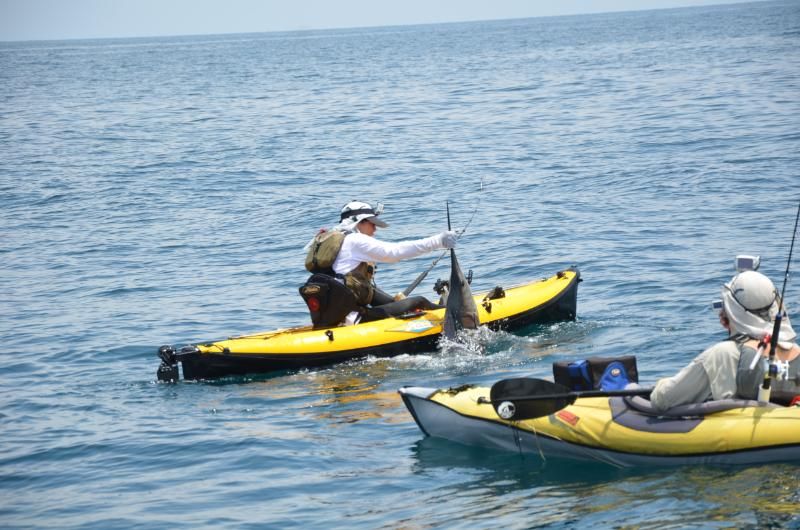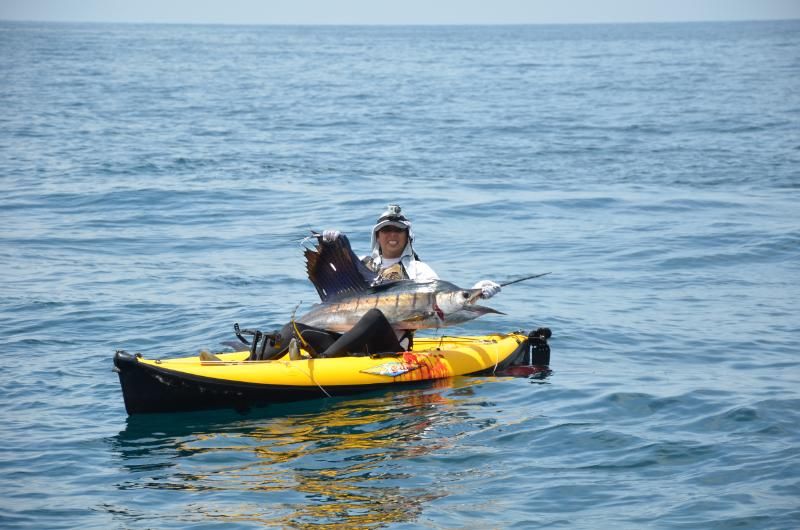 I was back into the action again with a very acrobatic Sail in the afternoon..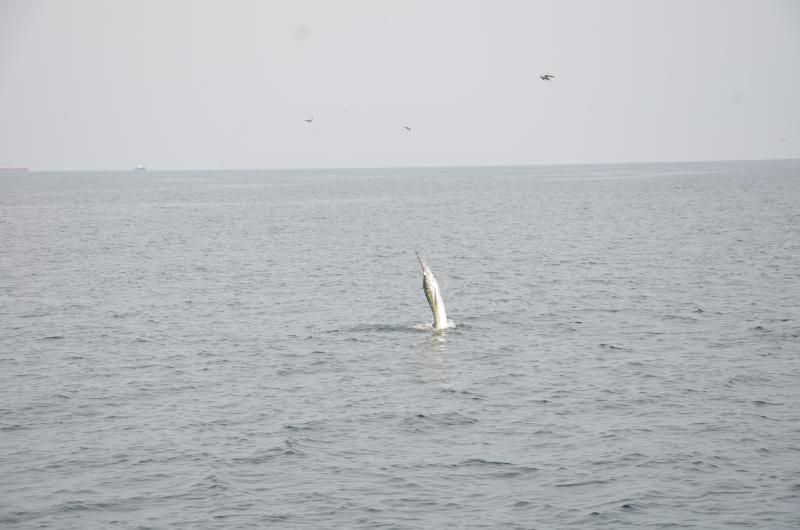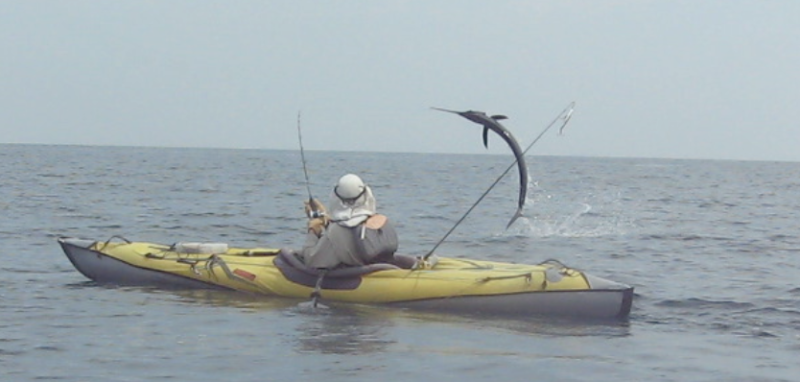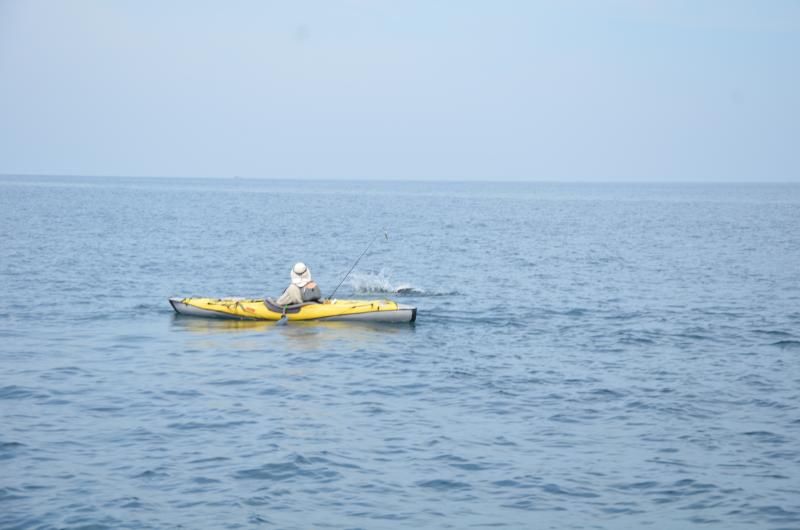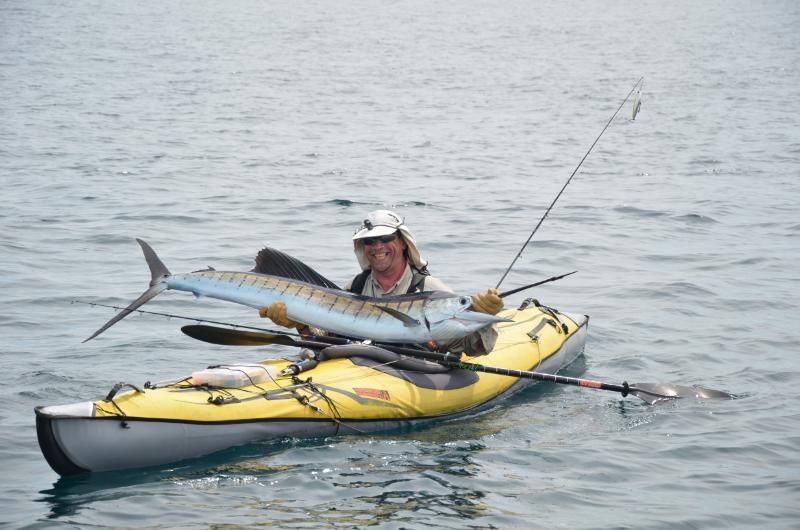 3-1 to Pearly!!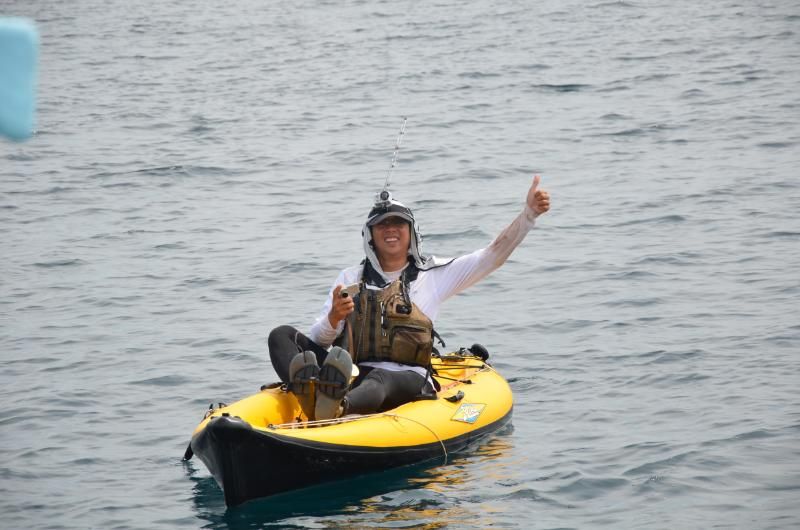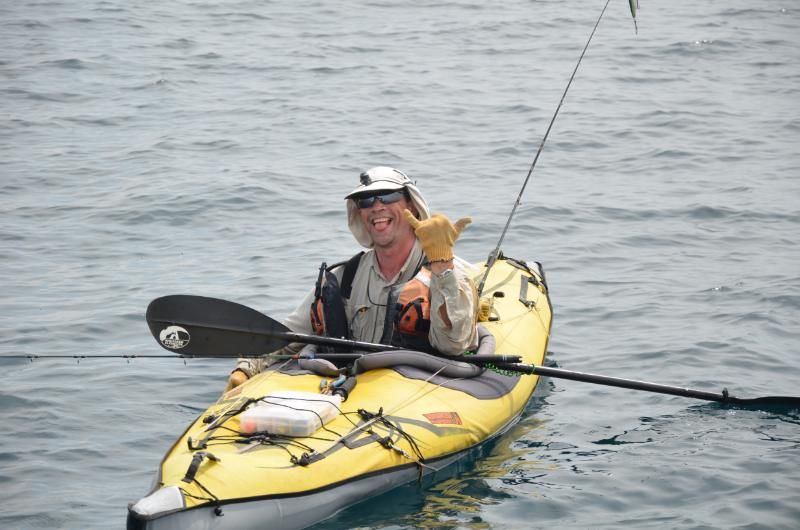 Merv was determined not be outdone and quickly hooked up again..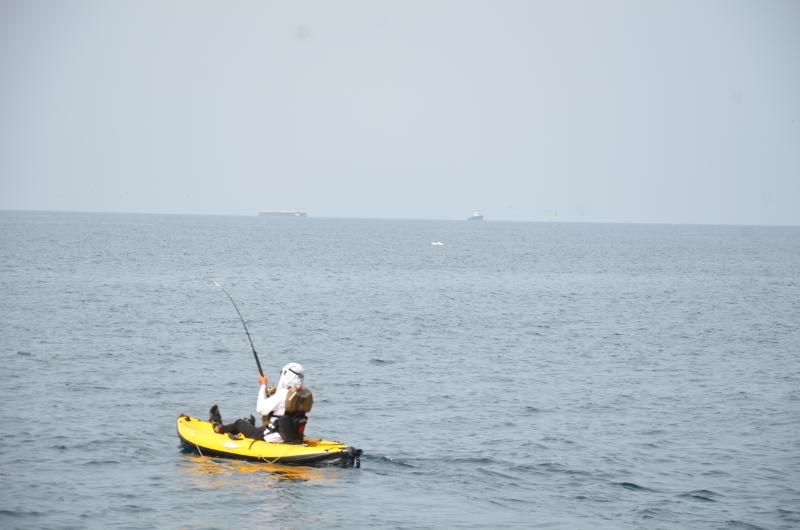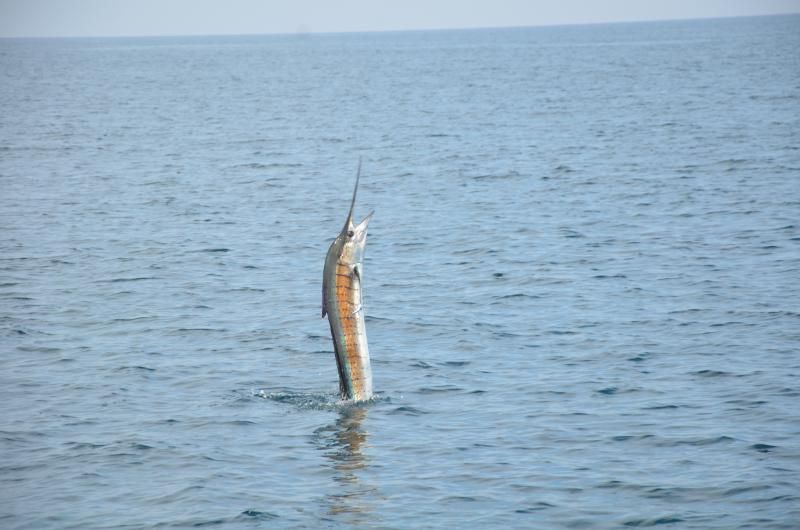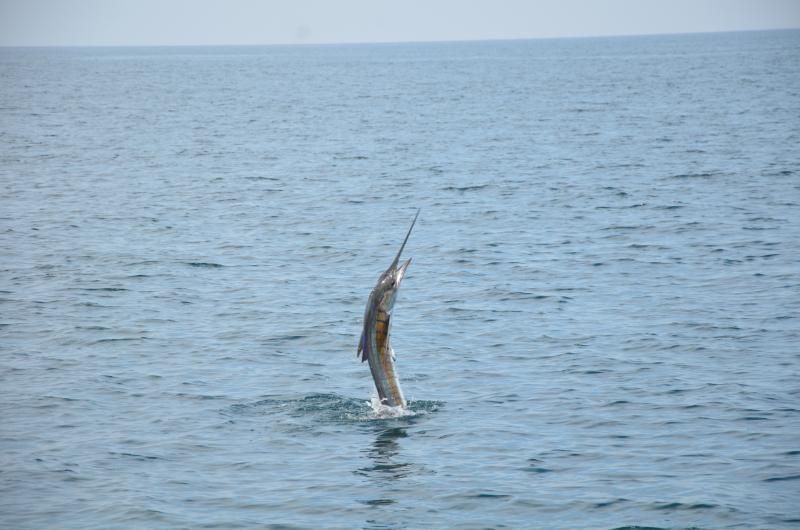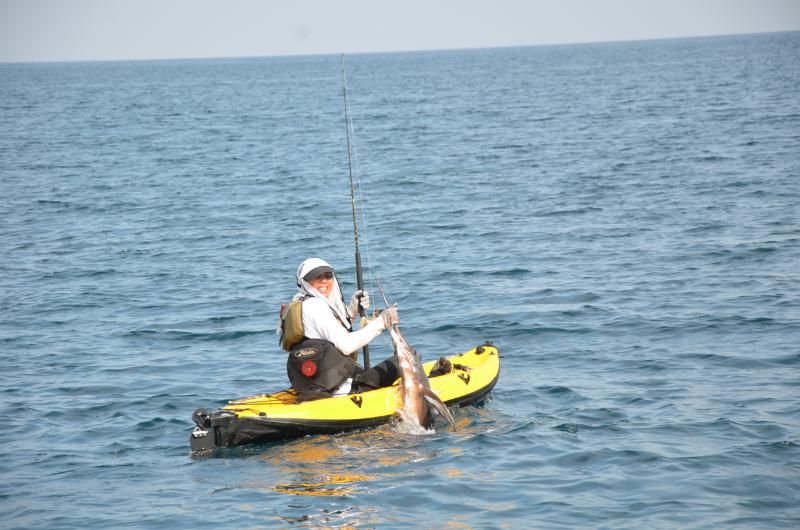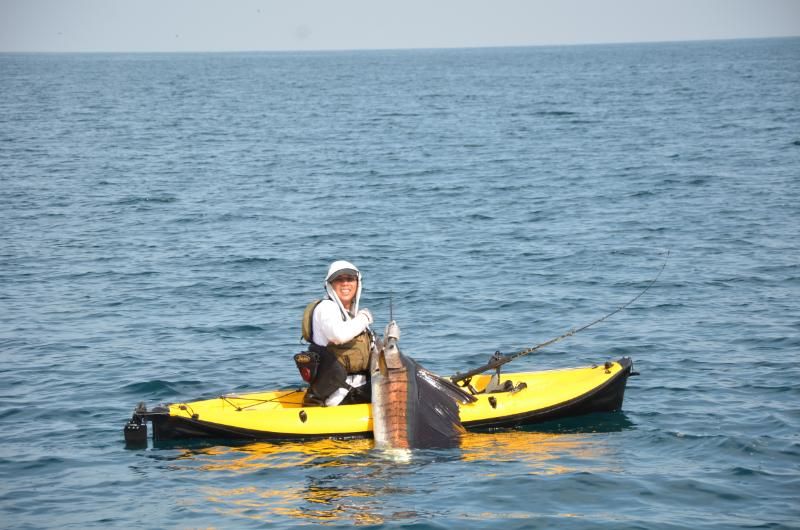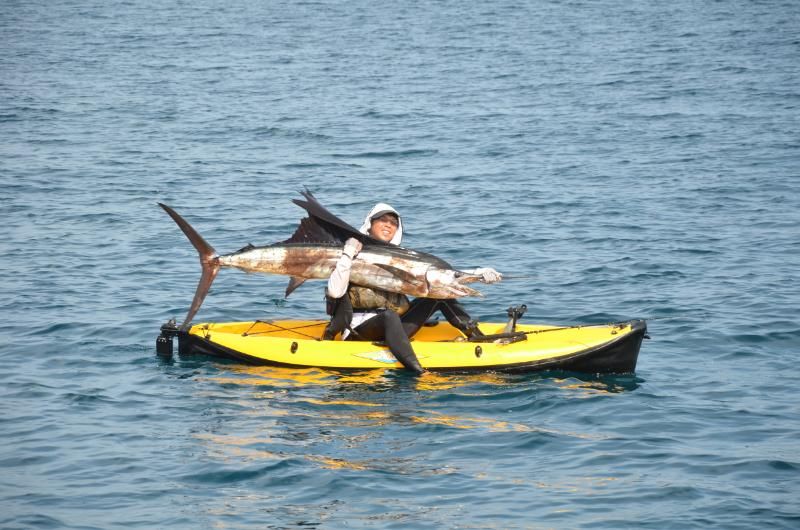 Merv was able to do his own revival on the Hobie!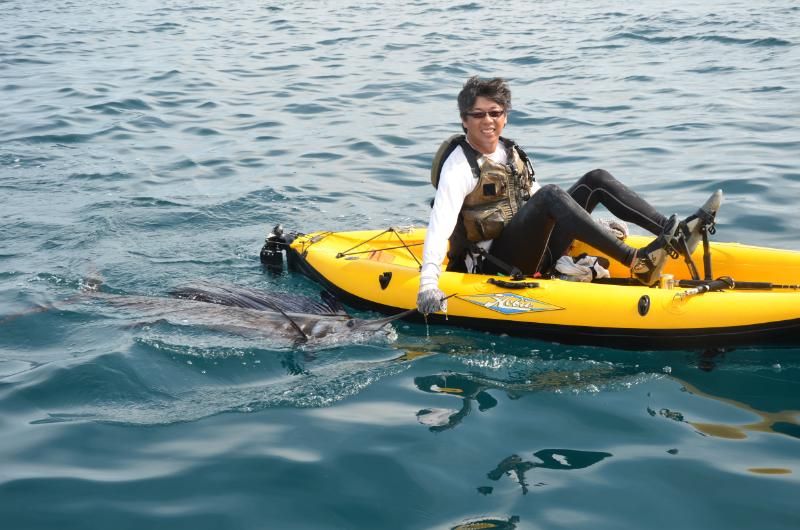 As the storm was starting to build over the mainland, time was up at about 4pm and we closed the book on another awesome outing!
Many thanks to Mr. Kim for the great photo's - luckily, I did bring my SLR camera and he did a great job in using it!
Many, many thanks to Merv for making this an unforgettable adventure!
For me, this was the perfect way to close a fantastic four years. I've had some great times and found many new friends. I've caught more fish than I could have imagined and seen some magical sights. I wouldn't have missed it for the world!
To all those I have met on this fantastic adventure, I am truly grateful. Keep the spirit of fishing alive and stay happy!!!
CHEERS!!!!!
Ian