Thoughts and memories of the last sailfishing trip would not leave my mind. "Fancy a mid-week trip to Rompin?" I asked my buddy, Merv.
"ON!!" was the reply… "Tomorrow?"
I was actually planning for the following week to give me time to organize the boat & lodging, so we had a very excited week waiting for the day to arrive – especially as it was going to be the day before Merv's birthday!
I called up the boatman from our last trip and he put me onto his uncle, who organized the boat and lodging for me. Fantastic! Deal done! I had also managed to borrow a waterproof helmet cam for this trip from one of the guys at work. Woohooooo!
The day for departure came and after checking all the stuff I needed, we packed it all into Merv's car….. and filled it! I couldn't believe two people could warrant so much gear, but there really was no more room in the car!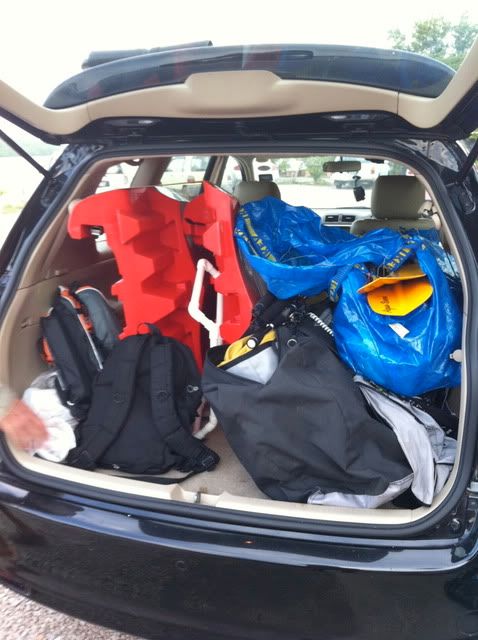 Arrived at Rompin in good time, got the room sorted out, had a beer and we were all set.
The next morning was calm and beautiful as we ordered breakfast and a take-away lunch.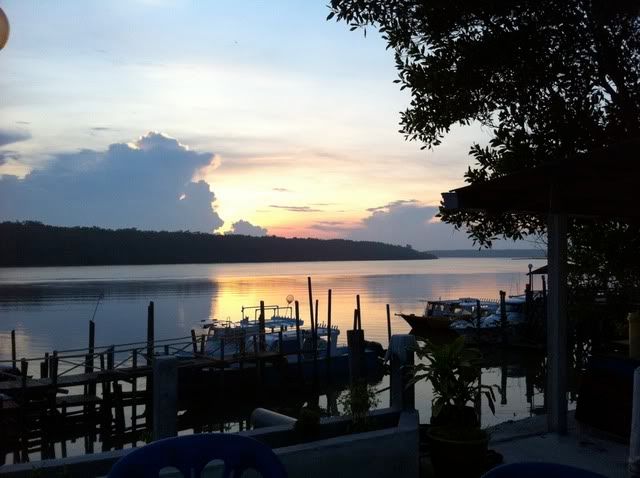 By 8am, we were on the boat and heading out to the South China Sea, searching for bait.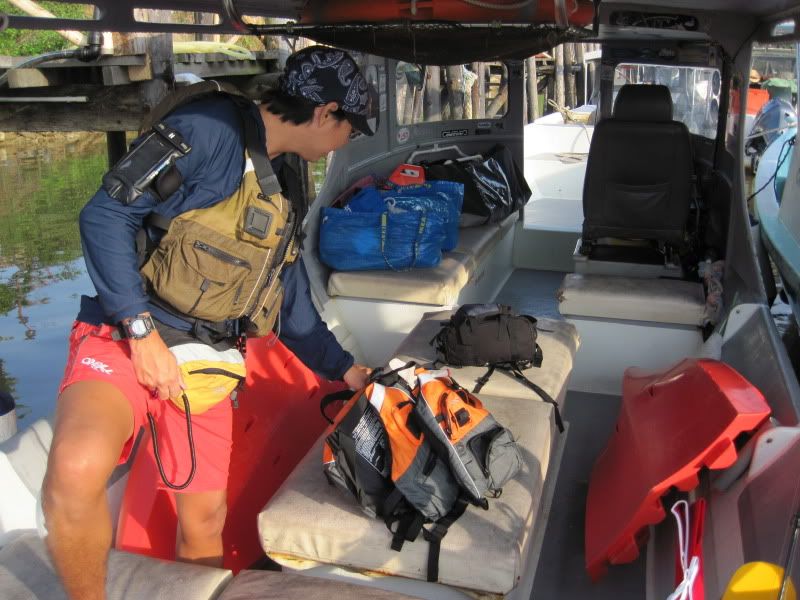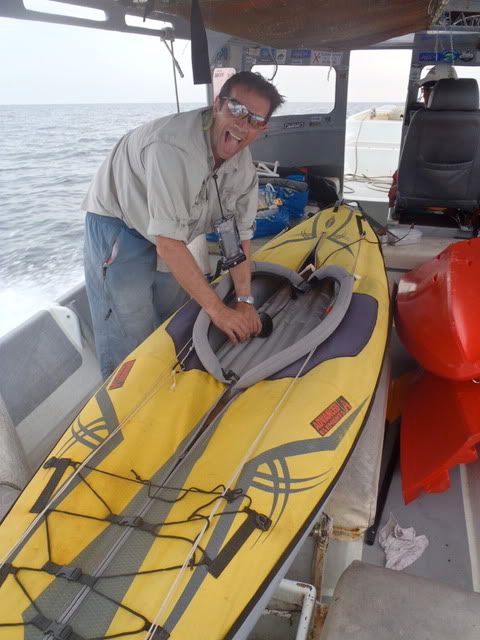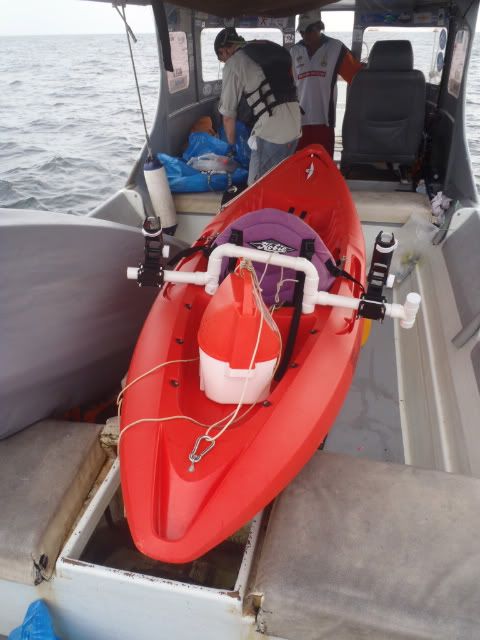 The baitfish were playing hard to get and it took us a lot longer than we thought. After covering quite a distance in search of small fishies, our boatman decided we should use what we have and go get the big fish we were looking for!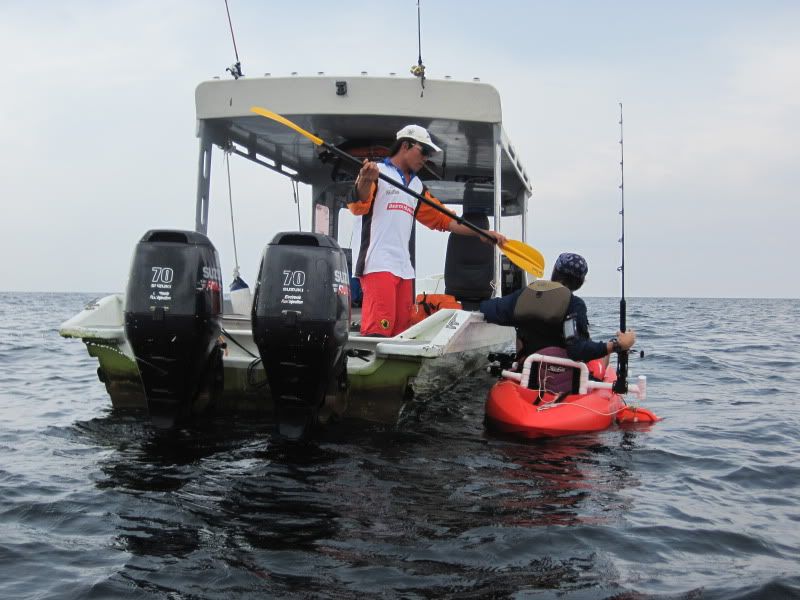 I was into the first sail about half an hour after launching the yaks, but after a short run and one splash, the hook was thrown and I was left with a disappointed look on my face!
Half an hour later, Merv was into a jumping sail too. A good solid hook up left the sail dancing on the waves, but Merv's 30lb main line gave way and left Merv with a similar disappointed look!
As we set off following the birds, sails were all around us, but would not take our bait. There were huge boils of baitfish, with birds over the top and sails and tuna hitting the surface from below. There were also several trawlers in the area, following the same birds and bringing their nets around the schools of baitfish. These would also inevitably catch a few sails which they unceremoniously gaffed up and threw back into the water. One big sail was left floating on its side in the water close by. I thought it was dead, but as we drew nearer, its tail was softly moving and its gills gasping.
I grabbed its tail and turned it upright, moving it to and fro to aerate its gills. It gave a few stronger kicks and I pushed it off. It slowly swam down into the depths, so I hope it made it.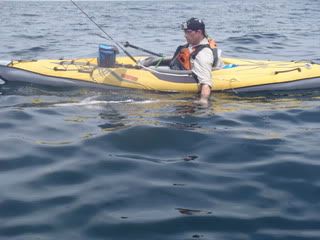 The midday heat was boiling hot and my toes were nearly burned as they touched the canvas decking. The water was now getting calmer and as 1:30 came round, a fish woke up and grabbed my bait. I pressed the record button and wondered what was going on. At first, I thought it was a garfish or something as the balloon was shaking rapidly from side to side. Within seconds, a sail jumped and sped across the water. It jumped a few more times and as the tension increased I gave a couple of strikes and set the hook. The sail didn't like this too much and jumped again to see what was fighting back. He then started to come towards me and then off to the left. This was a lively sail and quite aerobatic. As the fish started to tow me around I looked down for my Ikea bag sea anchor, but didn't see the line. I thought I had forgotten it, so turned the yak to add resistance. The sail didn't like this either, so jumped some more before finally getting close enough for me to grab the leader.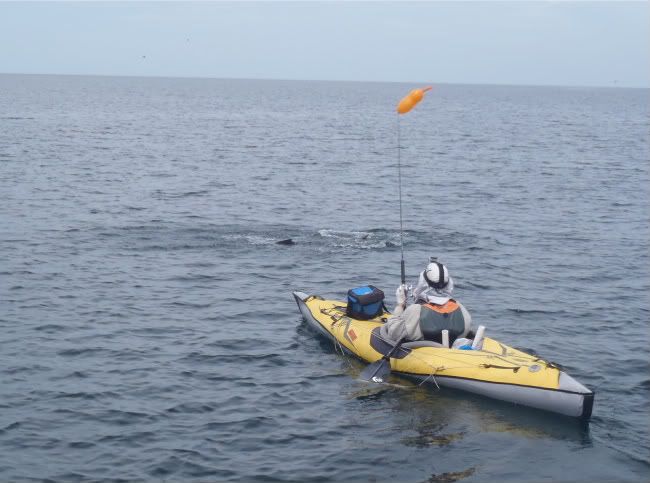 Once he was into position, I grabbed the beak and pulled him up for a quick photo.
A while later, Merv was into another sail and once again with a firm hook-up. Once again, the fish jumped like a crazy fish and once again……his main-line snapped! Merv was less than pleased and went back to the boat to change his reel.
Armed with his trusty old reel, he was back into another fish. This was a big one and really put up a good show for us. As he started singing "Happy Birthday" to himself, the captain and I joined in and it seemed to work wonders on the fish!
As the fish came near, Merv grabbed the beak and hauled up the beast for a foto shoot before handing it to the captain for a towed release. Although he doesn't look it in this foto, to say he was happy would be an understatement!
We had now drifted away from the strike zone, so clambered back onto the boat to try a new pasture.
After the re-launch, I hooked up another livie and lowered it down beside the yak. As I released some line to attach the balloon, something took the bait and was speeding off. As I increased the tension, the hook was released and I was disappointed again.
Merv was next in with what initially looked like a small sail. Almost instantaneously, the captain was also in as a small sail leaped our of the water after taking the fish from his bait jig! The line couldn't take it and the fish was gone, but Merv's was still on. This wasn't jumping but was still putting up a good fight. As the fight neared its end, a huge Garfish came up, gave a smile for the camera and was released.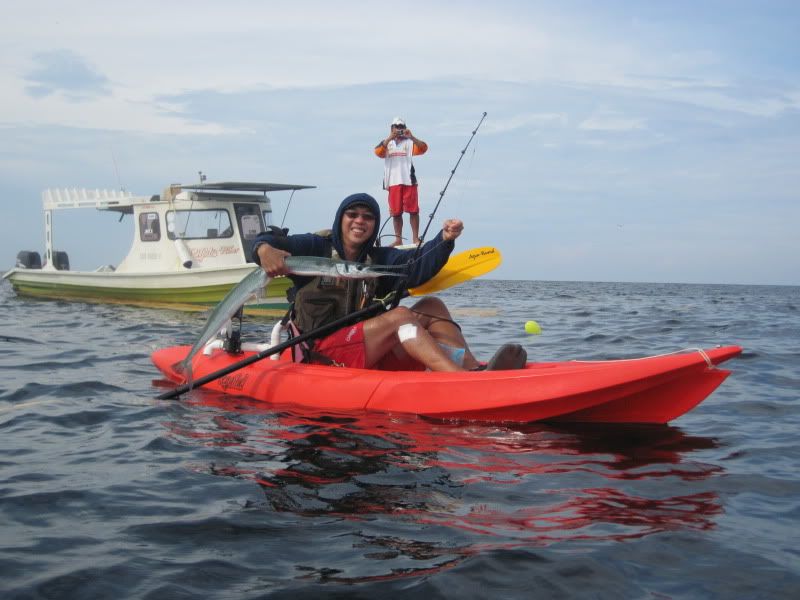 As our bait neared its end, Merv was back into another fish – this time another big sail. This wasn't as acrobatic as the first, but was a powerful fish. Merv could hardly contain himself as the fish came up for a trophy foto!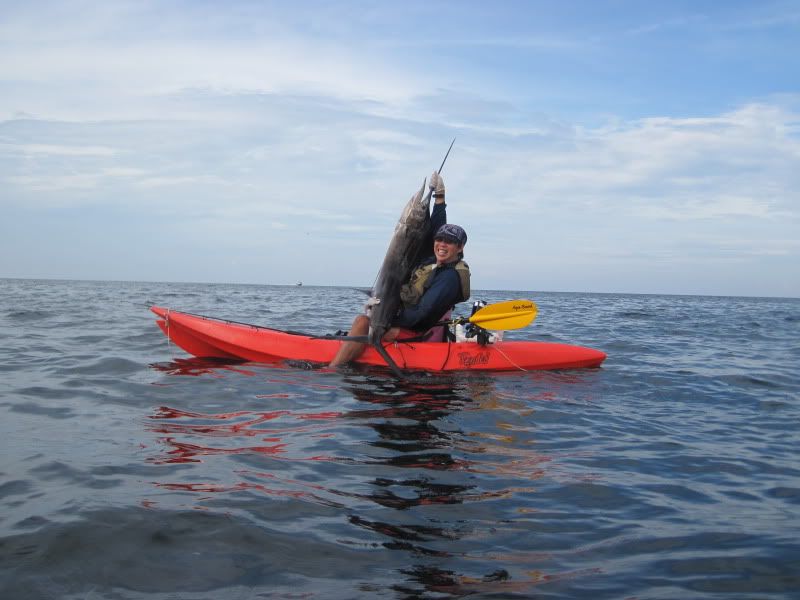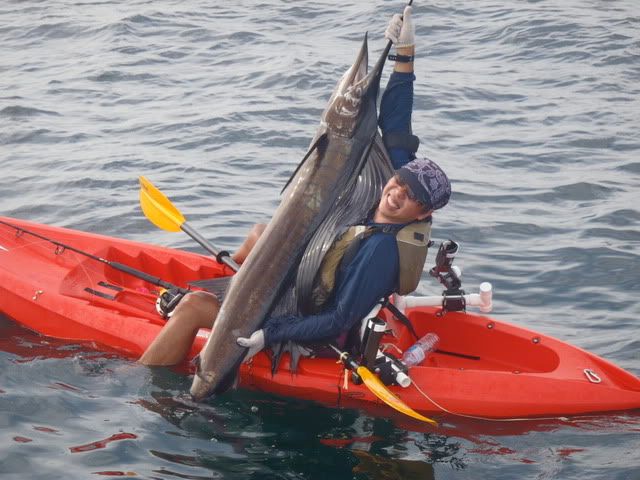 Merv was now out of bait, the captain had no more in the hold, but I had one fish left. I gave it to birthday boy who excitedly took it and not so excitedly dropped it into his yak and watched it bounce out into the water! "Isn't that supposed to have a hook on it?" I asked! "STUPID!!!" the boatman and I shouted in harmony!
Merv hung his head and paddled back to the boat. It was almost time to pack up anyway, so I followed suit and off we went on the journey back to base – two happy fishermen and a happy captain who enjoyed the entertainment we had provided.
Wanna see what it's like to catch a sail on the kayak? Here's the video – the full original version is much better quality, but you will have to make do with the youtube version for now…
http://youtube.com/watch?v=mIlq3CFuElc