Well, we survived... in fact the wee boat performed very well.
We took the boat out to Derryhick Lake on Saturday, nice fine day and very little wind. Christened it Junior II on account of its size (Junior is the dog!).
From the roof to in the water in about 10 minutes, took 7 minutes to get it back on including ratchet strapped in place.
Bit of experimentation going on, needed to be careful, so expect it can be done in 5 minutes up and down with practice.
Need a roller assembly for the rear of the car, anyone know of a supplier?
This is it during assembly: pressure treated timber, marine plywood and a lot of epoxy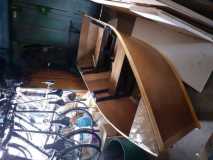 This is it finally on the car: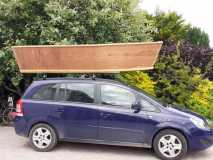 A few comments on the American skiff design and adaptations made.
It is a bit skittish on account of its relatively narrow beam (3 feet). That will require a bit more testing without the teenagers on board.
Even with two adults and a teenager it rides remarkably high in the water. I calculated a load of 240 kilos, think this might be a bit conservative.
I am very pleased about how high it rides, as I put extra weight into it by using 1/2 inch marine ply for the base and extending the deadrise by 6 inches all the way around.
With just two paddles (2 hp 4 stroke outboard arriving shortly) it moves along at quite a clip once you get it started.
Staying in a straight line is not easy given there is no keel, so the paddlers need to work in unison (not a lot of that going on!).
Flat bottom looks like it will work very nicely for casting, ditto the 1/2 inch plywood seat covers.
Probably needs a rub rail along the top. Would have liked to put in structure to allow for oarlocks, as I reckon it would scoot along with proper oars.
Debating whether it needs a central runner on the bottom for protection. It has two detachable runners there already.
Launch point is sand and mud which is very nice, but that will not always be the case.
Probably needs a bit of a metal strip along the bow for further protection.
All in all extremely pleased. Lots of mistakes made (cut the aft section in the wrong direction for the grain!) but lots of lessons learned.
All I need now is a bigger garage...