Friday morning I was sitting behind my desk looking outside at the weather and wondered what on earth was I doing working on a day like this ... so I pulled the young lad from behind his I-pad and started to load up the car. After reading a few posts on plaice at Kilcoole and Newcastle, two beaches I had never fished before, I consulted my best friend Google and found a nice camping site just outside of Wicklow ... we now had a mission (catch plaice) and a good spot to stay. On our way over to Wicklow we took a detour and stopped in Swords for bait, like everyone else I have a massive problem controlling myself when I am in a tackle shop so needless to say that I waaaayyyy over spent on stuff that I might need some time in the future

... ah well at least we got sorted on the bait end.
After arriving at the camping site we pitched the tent in record time (about 10 minutes) , these new generation air tents are amazing and we couldn't help ourselves laughing at others that were struggling putting the damn thing up. While we left others struggling we were on our way to Newcastle where we arrived around 14:00 hours at a still dropping tide. We picked a mark about 150 yards to the left and started fishing. Around 16:00 we packed up as the local sea life ... apart from crabs, crabs and more crabs had no interest in our lovely fresh bait.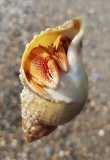 On our way back to the camping site we stopped at the local Tesco for enough supplies to get us through the next two days. As we had time to spare for high tide we treated our selves to a couple of nice rib eyes for the BBQ. A blank is never a good start and in order to keep the young lad interested I decided to give Brittas a go. We started fishing Brittas about 3 hours before high. After 2 or 3 casts the young lad started catching, his first catch was a small Bass. After an hour he was well ahead of me with 5 fish (Bass, whiting and a dog) and me 0 but luckily the fishing Gods turned the tables and I started to catch some Bass, poor cod / pouting, codling, whiting, dogs and rockling. We left about an half an hour after high tide (responsible parenting) with 21 fish (5 species) caught between the two of us.

The next morning we decided to fish the high tide at Ennereilly as we came to the conclusion that Kilcoole and Newcastle are probably not the best beaches to fish during the day. It was a fabulous time out on the beach, the slack tide didn't make the fishing any easier but we managed to get a good few whiting at distance (nothing in close apart from crabs, big ones mind you) in the 3 1/2 hours we fished.
Back at the camping site there was plenty of time for more father and son quality time as the next high tide wouldn't be until around midnight. Amazing how simple life can be with just a ball and a beach.
Our next problem was where to fish next, neither of us wanted to end our trip on a blank so we headed for Arklow South beach. When we arrived there was a comp going on but there was enough space between the first man and the crab pots so that's where we parked. From the first cast we both started to catch fish and this stayed that way till we stopped fishing at 01:00. It was one of those night where everything fell into place. Double dogs, dog - whiting - dab, at distance or in close it didn't matter you couldn't do anything wrong. Species were limited to dogs (they were abundant), whiting (all small), Dabs and a smoothie pup. After 55 fish we lost count. Great nights fishing and we both went to sleep with a big smile on our faces.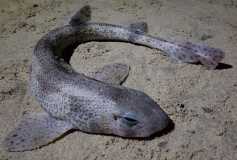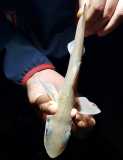 Easter Sunday we left Wiclow not having accomplished our mission of catching some plaice but very content and a wee bit tired as some idiot started to mow the greens of the golf course behind our tent at 05:15. We just have to come back now shortly to accomplish our mission.