Had a quick session out on a rock mark in clew bay yesterday with my pike fishing buddy Jason and his son Daniel.
Neither have much experience shore fishing so I was showing them a few things. The target species were thornbacks, dog, and rays. Bait was moldy old mackeral from the winter piking, this stuff was ripe :O
We arrived at the mark at 5.20 an hour before high tide. On opening my beta box, I realized I had for got my rig winder box. After the initial panic I rooted through a box of miscellaneous tackle and found 4 commercially tied rigs I ordered from the UK I while back. The quality of these rigs were poor and hooks sizes were 2/0 and 3/0 flappers and clipped downs. But they saved the day.
We cast the baits out at various distances to start with. By 7 oclock we still hadnt a bite. The Baits were not even being hammered by crabs. This was a bit disheartening usually I am kept busy with dogs on this mark and juvenile rays usually make up a bulk of the catch, and the ray sport in general can be hectic. But its still very early I suppose.
Luckily I found a packet of size 2 kamasan Aberdeen match hooks and changed the hooks on daniel rigs to see could we search some smaller species. I was determined to get him a fish. His dad informed me he has had no luck any time they tried the shore, so an effort had to be made. Promptly, I baited up the hooks with thin strips of mackerel belly and told him to cast it out 40-50 yards. After 10 minutes his rod started to nod and a minute or two later a nice flounder of about 25cm was on the rocks.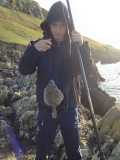 (The fish was covered in lice and had a mottled brown underside. Ive noticed pollack and wrasse also badly covered in lice in recent years. Does any body know would this increase in lice be connected to the salmon farming in the bay? Or do those lice only feed on salmonoid species?)
We gave it another 40 minutes after that and began to pack up. I had a small pollack of about 15cm on the last retrieve.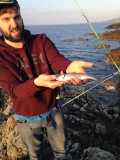 Disappointing fishing, but the scenery and wild life in clew bay make its always worth the effort

Hopefully checking out a new beach mark saturday, will keep ya'll posted