Tide: Last Half Hour of the ebb, First 2 of the Flood. 1pm-4pm
Bait: Fresh Lug
Rigs: 1 hook paternoster (Aberdeen)
Results: 10 Ballen Wrasse. One which was a specimen 5.9lb/53cm
Set up: Ugly stick spinning rod and 10lb mainline
So, I got a call from my Uncle John on Friday asking me do I want to check out a mark in asse a couple years ago. We got round to checking it out today. Having blanked at the same mark a few weeks ago, I was little skeptical but also quite hopeful as I was armed with 30+ big blow lug left over from a competition yesterday in achill. Nice Wrasse have fallen to these for me in the past.
On arriving my uncle decided he want to try out a weedless tronix artic eel i had given him to see could he tempted a pollack, so I headed further over the rock to try a deep gulley for Wrasse. I set up my spinning gear and a 1 hook paternoster and a 2oz lead and baited up with the lug. Lowering it over the edge into a gulley. After 5 min I had no bites, and reeled in to re-bait when half way up a wrasse of about two pound rattled the bait but it did not hook it self. This was very promising start.
Re-baited dropped down, couple seconds later had a nice fish on of around 2 pounds, followed by a small fish of under a pound, followed by another small fish.. I then baited up two lug on to the hook, just to see would it make any difference. It was in the water about two min when I got a massive rattle and the fished hooked itself without me striking and rushed for the kelp. I knew straight away this was big fish. After a short struggle I had him on the rock.. My personal Best wrasse and as big as I have seen..
With excitement I rang John and told him to give up his attempts at catching a pollack and come over and try for a wrasse. He was also amazed by the size of fish.
I wouldn't normally keep wrasse. But we decided we would bring him to my Grandad. (
He is Native of Inisturk, where the fish has cultural significance in their diet, where its locally known by the name "Gunner"
.)
Over the course of the rest of the session I managed another 5 small fish and John had 2. We packed up and headed for my grandads house, where he was delighted with it. And had it roasted for his dinner this eve! On measuring the fish it was 53cm and 5.9lb on the scale.
A successful day on the Rocks.
One thing I noted about the Wrasse was they were covered in Sea Lice. Does any body know Is this a normal occurrence or would the salmon cages on Clare Island be contributing to this? But they were not marked by the lice, I imagine that the hard scales provide good protection against such parasites.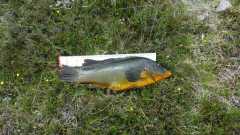 Last edited by
seank
on Tue Jun 07, 2016 8:21 pm, edited 1 time in total.