Who - Myself, Ben and the nutter
Location: Wexford
Time: 2 days
Bait: Crab, Rag
Rigs: 2 & 3 Hook Flapper. Pennells
Tide: 7ish
Wind: not on monday - blown out of it on tuesday!
Species: Codling, Dab, Dogfish, flounder, whiting, rockling and Bass
Started Monday evening with a flat calm sea so was not hopeful of anything exciting but I can always be sure of many flats, dogs and the smaller fish species at my usual mark. It didnt disappoint either - about 28 fish in the few hrs I was out - fished from 6 until about midnight on monday going about 2hrs up and 4 down on the tide. Some very big dogs for the mark this time, some codling to 1lb at a push, some nice flats and then the bait strippers.
I also found 2 rods in my mates shed, it'd be rude to leave them there I thought - so my setup ended up looking like this!!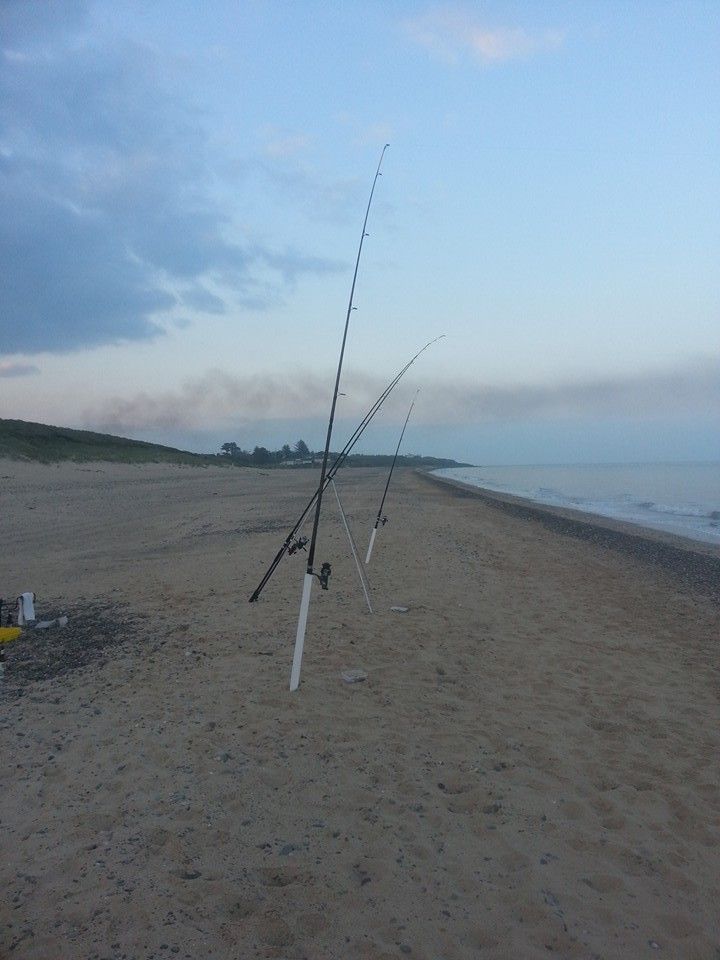 Never again will I fish 4 rods - I was wrecked! I had some beer on the beach I never got to touch! The busiest I have ever been whilst fishing! I dont think I had all four out for more that 5 minutes total anyway - between rigging and catching one was always out of the water and I was knackered at the end of it lol!
I was waiting for the weather to turn on tuesday and it surely did that!
Tuesday I headed to my Bass mark about 6, met up with some friends who traveled for a few hrs line wetting, one of them had no wind/rain gear, which proved to be his downfall.
We arrived and set up, the cliff faces behind us channeled the strong wind even stronger down the beach into us, it started to rain soon after and the wind picked up stronger, we decided after about 90mins and 3 schoolies later to save our young friends immune system and find a more sheltered spot to fish out of the wind.
After a 15 minute drive we arrived at a new mark, set up again and first cast im into a nice Bass on a 3 HF. About 2.5/3lbs. I had originally thought it was a dog as it hadnt slammed my rod nor had it pulled very hard in the fight. I wasnt complaining but you just love to see a rod slam to the floor to get yourself in the mood. But after beaching the fish and seeing it light up with the flash of a head torch and knowing that its a glistening bar of silver it puts a beaming smile on your face none the less!
Our young friend was struggling, the new mark was nearly perfect weatherwise, a little breeze and a good chop on the water but the cold and wet had gotten in on him and he was clearly struggling. My other friend opted for compassion and put him out of his misery and drove him home.
I fished on for another hr and came across another bass almost identical. Still no pull out of them. I presume due to spawning, Both fish were released obviously and although never bolted they both recovered within a minute and went away.