Kayak(s): emotion kayak
Duration: 9-10 hours with a two hour break in between
Tide: up, down and slacks
Weather: mostly stunning, a little windy at times
Bait: soft plastics and hokkais
Rigs: see bait
Results: jumbo sized pollack, too many to count
Report: first off, west cork is a paradise for kayak anglers. did a little bit of rock hopping the first day i was down and when the morning after was calm and the forecast heralded a day that would be grand for the kayak, i grabbed my chance and hit the waves by about 8.00. was in a vast bay and i paddled around for a bit searching for mackerel. wasn't too concerned about them to be honest but i was staying with a group of shore anglers who were looking for some fresh bait. searched around for a good while for some macks but with the fishfinder giving a water temp of 10°c so i wasn't overly optimistic. that and i couldn't get through the giant sandeel that kept hitting the hokkais, some foul hooked, others fair and square on size 2/0's


i ended up getting the lads one solitary mack that they could fight over.
after spending an hour or so jigging for macks, i had been drifting towards the edges of the bay when i spotted a couple of interesting drop offs on the fishfinder and a few huge fish arcs. the hokkais went down to see what they were and the 12lb class rod buckeled. i stuggled to get it to the top where i was greeted by 3 pollack in the 4lb bracket!!!! this continues for about 15 minutes - i'd drop the hokkai and they would come up nearly every time with a pollack of 3-4lb weight on them. sometimes there were two and a couple of times even three of them. it was incredible, like mackerel fishing only the mackerel were good sized pollack.
after about 15 minutes or so i decided to have some proper fun in the form of jelly worms fished on jigheads. i was using the setup i use for spinning for perch or small trout - a 10-30g spinning rod, 8 feet long and a fixed spool reel loaded with 10lb line. i'd cast it away from the yak in the opposite direction to which i was drifting, waited til it hit bottom then payed out a bit more line. pollack were hammering the jelly worms on nearly every retrieve and the craic from them on the light setup was beyond description. the rod would arch over and the reel would sing with the powerful dives, some of them pulling the boat about a bit. the sport was hectic and i honestly have no idea how many i caught - i stopped counting at 30 and that would have been at about 11.30 - 12.00

i headed for shore at about 15.00 for a bit of grub and to take it easy for a couple of hours before heading out again. the only sore point of the morning was when two pollack hit the worms so hard that they swallowed them, bled an awful lot and unfortunately went belly up when they were returned. these two casualties were brought ashore, countless fish were released........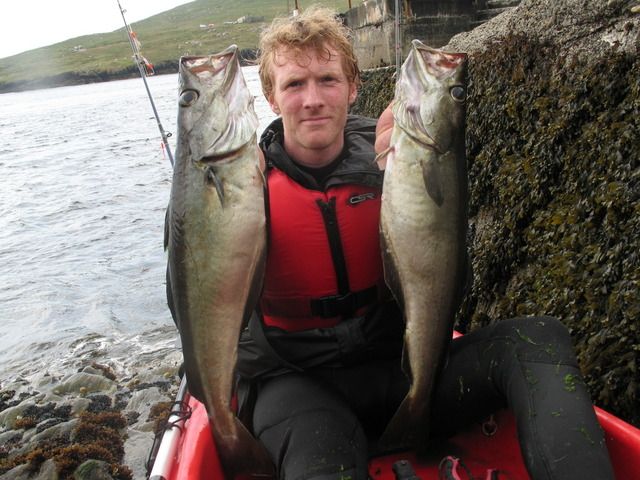 with my cameras pinched i had my non "made for watersports" canon out with me and to be fair it didn't come out much at all. very apprehensive about using it on the water so i waited til i landed for lunch to take that pic. back at the house we weighted the fish with them going to 7.10 and 8lb even.
i hit the water in the afternoon at about 18.00 and fished in the same manner, no hokkais this time until sunset. on the menu was more of the same and while the sport was excellent it wasn't quite as hectic as it had been that morning. the stamp of fish were bigger though. i don't carry a scales with me on the kayak but i think i am going to start. two of the pollack i caught could only be described as jumbo-sized. having weighed the 8lber at lunch and taking it's size into account i was catching fish in the afternoon the were getting up to 11/12lb in weight. two of the fish i boated were the length of my leg in the cockpit!! i am 6'2" tall


i also hit two fish that no matter what i tried, i could not lift them off the bottom. they broke me after a couple of minutes of heaving and cursing. wasn't to be but i'll be back down after them with stouter gear. i had well over a hundred pollack on the day, for stretches of over an hour it was one a chuck. they ranged from about 1.5lb to 11/12lb. a real red letter day. i'll be straight back down to that area when i get another gopro!!