The Flat Rocks, Dunmore East, Co. Waterford.

This is one of my favourite marks in Waterford, and it is located on the western side of the village, just past the newly refurbished hotel and after the access point to the pier and harbour, as if taking the coast road to Tramore. The pier itself is largely worthless bar small Flatfish and Conger Eels under your feet, with Mullet and Mackerel a possibility in the summer. The mark itself is well signposted at the entrance. It does get popular on summer evenings with mackerel bashers but most times it is very quiet with little angling pressure. There is an informal car park, often heavily rutted and pot-holed, with several tracks down a steep slope and over a drain towards the sea. This being a popular competition venue, you will find numbers painted on the rocks near the shoreline. Most people agree that "5" is the optimal position, stuck as it is out on a point that is (believe it or not, and this feature is only visible at very low water) accessed over an arch covering a very deep cleft. This mark floods at high tide so never turn your back on the sea.
What about the fishing?
That gully is a prime location for Wrasse from May onwards, with excellent fish to over 2 kilos available directly under your feet, although the average is far smaller. You will catch them at distance as well, especially to the left where there are several rocky outcrops underwater amid a sandy botom. This mark is a rock platform and the tide can sweep up several metres... with any kind of blow and swell you may have to stand twenty metres behind the mark for safety. It is also very exposed and there is little or no shelter so check the wind and tides!
Reviewing the diary I can tell you that this place rarely blanks and often provides surprises, like strap Conger Eels taken on float fished lugworm that was seeking Wrasse. Whiting and Codling are often taken off lugworm in the winter, ideally with a decent swell and an incoming tide. It is a spectaclar and dramatic place to fish at night as you have the Hook Lighthouse sweeping the bay with its beacon every thirty seconds. Flounder, Dabs and Plaice are taken off the sand directly out in front of the marks - it is fairly snag free (to the right of the "5" mark) until you get within ten to twenty metres of the shore. A watch lead, a three hook flapper and lots of fresh bait (crabs are commonplace) will do the trick here and I have found the beads definitely help select Plaice from other flatties.
In summer people use feathers off the rocks for Mackerel, particularly at dusk and with an incoming tide and some small Pollack will fall as well. Wrasse provide excellent sport here and can be up to a decent size. Legering on the bottom in heavy conditions will provide Conger, the odd Dogfish and Three Bearded Rockling, some up to specimen size with most of these fish caught close to the shore. It seems to be uniformly deep bar at very long range. Watch for lobster pot markers as they are a commonplace nuisance along this coast. In many years fishing here I have yet to sight much less catch a Mullet here however I am told that ground baiting with bread greatly improves the odds. As with most marks in Ireland, if the wind is in the east, stay at home and clear your kit or tie up new traces...
The nearest newsagent on the edge of the village has a limited supply of fishing tackle, that does stretch beyond feathers, but for proper kit and baits try John O'Briens in Waterford City on (051) 844314. There is another store, of the Army surplus variety, with an excellent tackle section and frozen bait on New Street opposite the new car park on (051) 857554.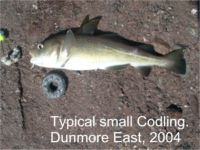 Probabilities: Conger Eel, Flounder (resident); Mackerel, Pollack, Ballen Wrasse (summer); Codling (winter)
Possibilities: Plaice, Mullet, Dabs (summer); Whiting (winter)
Rare Exceptions: Three Bearded Rockling, Pouting.
---